Lama Chopa Tsoh with Ganden monks - all are welcome!
Please join us to celebrate a traditional Lama Chopa Tsoh with the Ganden monks who are currently visiting Cleveland. This is a great chance to meet and practice with ordained sangha, and would be of interest for Buddhist and non-Buddhist alike.  Bring an offering of fruit, bread or cookies if you like. The offerings will be distributed to participants after the ceremony is complete.
Monday, Sept. 21, 7-9 pm
Jewel Heart Study Program

New Class:
Guru Devotion: The Uncommon Teachings
The Lama Chopa, though often recited by all levels of practitioner,  is in fact a Vajrayana  practice which includes meditations on sutra and tantra, as well as extensive offerings, purification and other practices to build merit merit and wisdom merit. Rimpoche's extensive transcript contains tremendous amounts of practical advice for Vajrayana practitioners, including aspects of the practices of Yamantaka, Heruka and Guhyasamaja..
This class is restricted to those with Highest Yoga Tantra initiation.
Required transcript: Gelek Rimpoche's transcript Guru Devotion: How to Integrate the Primordial Enlightened Mind, The Uncommon Teachings
Instructors: Anne Warren, Susan Kirchner and other JH Cleveland instructors
Tuesday evenings, beginning Aug. 15, 7-8:30 pm
Concentrated meditation practice evenings
This free weekly practice session offers Q&A or brief meditation instruction at 7:30 pm and two silent sittings from 7:30-8:30 pm. Beginners are welcome.
Led by Mike Sherman and others
Thursdays,  7:30-8:30pm
Vajrayogini Self-Initiation Workshop and Practice
This workshop is restricted to those who have completed a Vajrayogini mantra retreat with fire puja.  Please bring your lunch, self-initiation sadhana, note taking materials, ritual implements, and offerings for tsoh.
Instructor: James Jorah
Requested donation: $10 up to whatever you wish to donate
Saturday, Sept. 26, 10:30 am to about 4:30 pm
Vajrayogini Self-Initiation practice with tsoh
Restricted to those with completed Vajrayogini mantra retreat
First Sundays,  Oct. 4, Nov. 1.    1 pm to 4:30 pm
Regular Tsoh dates

Wednesday, Sept. 23, 7 pm: Lama Chopa - open to all
Wednesday, Oct. 7, 7 pm: Vajrayogini
Wednesday, Oct. 21, 7 pm: Lama Chopa - open to all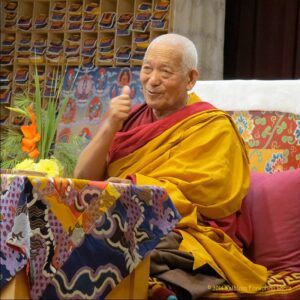 Geshe Yeshe Thabkhe
Aryadeva's 400 Stanzas On the Middle Way
Jewel Heart International
1129 Oak Valley Drive
Ann Arbor, MI 48108
Also available via Webinar.
NOTE: The Cleveland center will not be open for this webcast teaching.
Geshe Yeshe Thabkhe is a professor of Mool Shastra (Indian Tradition of Buddhist Philosophy) at the Central Institute of Higher Tibetan Studies, the only Tibetan university in India, and is regarded as one of the most eminent scholars of both the Madhyamaka tradition and Indian Buddhist studies. As one of the greatest learned scholars of Drepung Loseling Monastery, he facilitated the completion of numerous research works, including a complete translation of Lama Tsongkhapa's Lam Rim Chen Mo or Great Treatise on the Stages of the Path to Enlightenment.
SCHEDULE
Friday, September 18, 7:30 – 9pm
Saturday, September 19, 10am – 12; 2 – 5pm
Sunday, September 20, 2 – 4pm
Registration is only available online.  Visit the Ann Arbor programs page for the link to registration.
Webinar registration closes September 16.
$50 -­‐ 75 sliding scale