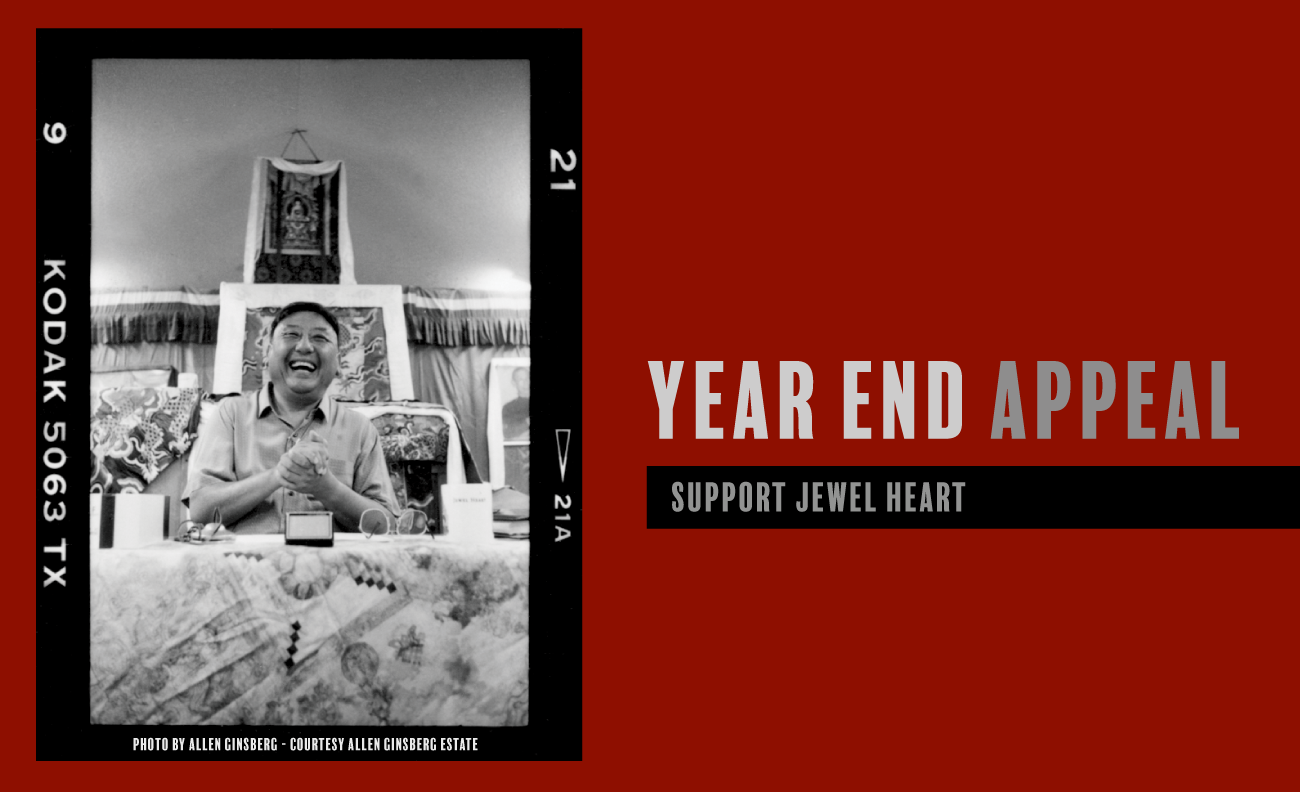 Dear Friends of Jewel Heart:
As we reach the close of 2017, we offer our best wishes for a healthy and prosperous New Year.
As many of you know, this year we lost our guide and spiritual friend, Gelek Rimpoche. But Rimpoche left us with a mission: to ensure that Jewel Heart remains a reliable source for spiritual study and practice.
Looking back on the past 12 months, we accomplished a lot together.
We presented courses on How the Mind Works, GOM, Love Your Life, and Lojong based on Rimpoche's teachings.
We hosted a large White Tara Event at the University of Michigan's Michigan Union.
We had our first big summer retreat without Rimpoche.
We received teachings from incomparable lamas like H.H. Drikung Rinpoche and Geshe Yeshe Thabkhe and renowned teachers like Robert Thurman, Dr. Joseph Loizzo and Venerable Thubten Chodron.
We hosted Geshe Lobsang Tenzin Negi's Foundation Course for Cognitively-Based Compassion Training.
We graduated our first cohort of Jewel Heart chaplains.
Demo Rinpoche gave his first solo teaching on the Ganden Lha Gyema.
We offered numerous workshops such as White Tara, Mandalas, Death and Dying, Ganden Lha Gyema Meditations, and more.
We've revamped the website and our social media accounts and made Digital Dharma offerings visible to non-subscribers for the first time.
Jewel Heart Lincoln hosted SEM: The Nature of Mind with Hartmut Sagolla.
Glenn Mullin taught in Ann Arbor, Bloomfield Hills, Chicago, Cleveland and New York.
Ann Arbor hosted Living with Loss: Grief, Consolation and Communion, a weekend with Guy Newland.
Cleveland hosted a weekend retreat on Purification with Venerable Thubten Chodron.
New study groups were launched in Jackson and West Michigan.
Study groups continue in Northern California, as do weekly meditation classes in Houston.
This is what Gelek Rimpoche set in motion through Jewel Heart, and this is what we are bringing about as we move forward based on the vast resources of transcripts and recordings he left us:
A constant stream of high quality courses.
Two retreats per year and plenty of weekend workshops.
Teachings from high lamas, teachers and guest speakers from the highest levels of academia and spiritual practice.
And robust local chapters in which community members help each other as well as the newly interested gain access and insight into this rare and exceptional tradition.
It's been a busy time keeping everything moving in the direction Rimpoche set out for us.
We want to thank each and every one of you who has worked so hard to help make Jewel Heart what it is today. Every member plays a crucial role and without you none of this would be possible. That is our tribute to Rimpoche.
We look forward with enthusiasm to the future of Jewel Heart and we hope you will too.
Please consider continuing to support Rimpoche's work by contributing to Jewel Heart today.
With all our best wishes,
Jewel Heart

Repaying Rimpoche's Kindness