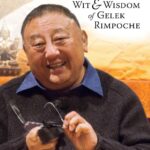 "The Wit and Wisdom of Gelek Rimpoche" is available now ($20 + $4 shipping in the US) from the Jewel Heart Store by calling 734-994-3385 or emailing store@jewelheart.org. To order for delivery outside the US contact the Jewel Heart Store for shipping costs and payment. Or order now using the PayPal button below (US shipping only).
In spring 2010, between teaching sessions by Gelek Rimpoche in Chicago, a small group of Jewel Heart students were talking and asked, "Wouldn't it be a nice idea to have a book of short quotations by Rimpoche? We could call it, 'The Wit & Wisdom of Gelek Rimpoche.'" Later that weekend at dinner with Rimpoche, we asked him if he thought such a book would be a good idea. "I think it would be a great idea!" he said. With that encouragement, e-mails were sent worldwide to Jewel Heart sangha members for their favorite Gelek Rimpoche quotes—from books, transcripts, teachings or personal conversations. More than 500 were collected and a small editing team winnowed them down to the 366 for this day by day diary of inspirational quotes.
We want to thank Gelek Rimpoche who carries the authentic message of the Buddha to all of us. Thank you for teaching the words of the Buddha from 2,600 years ago with a freshness and relevancy that guides us as we lead our lives today. Your tireless devotion to sharing the teachings, your limitless love and compassion, and the "wit and wisdom" that grace your words inspire us to awaken to our true Buddha natures and fulfill our goals of becoming enlightened for the benefit of all beings.
Posted on Friday, December 17th, 2010