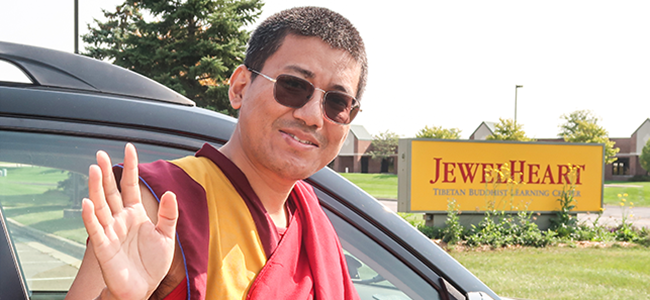 DEMO RINPOCHE: FINDING YOUR INNER COMPASS
Becoming spiritually grounded allows us to be at home with ourselves. Being conscious in the present moment, recalibrating the mind, generating emotional balance and strength are much needed in today's fast-moving world.  Demo Rinpoche will present timeless Buddhist methods applied to modern day needs.
DATE/TIME: Monday, October 3, 7:00 – 8:30pm ET
Free, suggested donation $10
---
MINDFUL LIVING – FREE JEWEL HEART COURSE
Meditation provides a clear stable mind, necessary for a happy life and foundation for deepening our spiritual journey. This course offers hands-on experience with the basic elements of meditation, using breath, posture and techniques for coping with distractions and laxity of the mind.
DATES/TIME: Mondays, October 10, 17, 24, November 7, 7:00 – 8:30pm ET
Free, donations welcome.
To register and for more details, write bloomfield@jewelheart.org.
---
MONTHLY VAJRAYANA MEETINGS ONLINE
Ganden Lhagyema
The Ganden Lhagyema, one of the most important practices in our tradition, deepens the connection with the enlightened through meditational exercises that enrich inner development on the spiritual path. Grounded in appreciation for our spiritual teacher, this is a practice of guru devotion, considered to be the "backbone" of our spiritual practice and the root of all spiritual development. This study group will also focus on specific visualization practices interwoven with the mantra commonly referred to as Migtsema. Gelek Rimpoche's transcript Ganden Lhagyema, The Uncommon Teachings is the basis of the study group.
Restricted to those with Highest Yoga Tantra initiation.
Tuesdays, October 11, November 15, December 13 – continued monthly in 2023
To register for the zoom link and for more details, write bloomfield@jewelheart.org.
---
In Person Attendance – Providing a safe environment for in-person attendance at Jewel Heart events is our top priority
Masks of choice, with a preference of KN 95 which are available, are required while at Jewel Heart onsite events, regardless of whether or not you are vaccinated.
If you are experiencing any symptoms of cold or illness, please stay home.
Jewel Heart reserves the right to modify these policies as needed.
Click for updated Covid policies and guidelines.