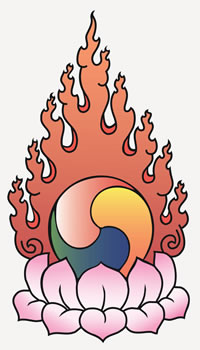 The Jewel Heart Chaplaincy's Wise and Compassionate Care Initiative
WHAT IS THE WISE AND COMPASSIONATE CARE INITIATIVE?
Jewel Heart Tibetan Buddhist Learning Center has a rich and long history of supporting its members and the larger community, who perform many acts of kindness, offering programs, workshops, tutorials, and direct care. Celebrating and expanding on this legacy, and on behest of Gelek Rimpoche, Jewel Heart created a formal volunteer Chaplaincy program. The initiative is meant to support and continue these efforts by offering accessible and organized services to Jewel Heart members and their friends, and honoring all cultures, values, and traditions. The Jewel Heart Chaplaincy addresses needs in four selected areas: dharma counseling; dharma rituals and ceremonies; prison outreach; and life transitions support, including support for individuals and their families facing significant life changes and crises. The Jewel Heart Chaplaincy uses a model of care that reflects the tenets and practices of Tibetan Buddhism applied in a contemporary cultural context.
HOW CAN JEWEL HEART CHAPLAINS HELP?
Dharma Counseling
We are available to provide compassionate and supportive counseling for those experiencing spiritual difficulties. For Buddhist practitioners, we offer advice on specific practices and dharma related questions.
Dharma Rituals and Ceremonies
We can help conduct a Buddhist wedding, funeral and memorial rites and provide support for dharma practices such as retreats and offering ceremonies.
Prison Project
We offer non-sectarian mindfulness and concentrated meditation courses, as well as Buddhist services for inmates.
Life Transition Support
We offer hope, comfort and service to individuals, and their families going through major life challenges and transitions, such as separation, financial crises, career changes, illness, injury, and dying. Coordination with the local JH membership support network, local hospice care services, and other local human services organizations is offered when requested.
WHO ARE THE JEWEL HEART CHAPLAINS?
As members of the Jewel Heart community, Jewel Heart Chaplains come to their role with many years of training in the form of teaching retreats, study, meditation retreats, and regular meditation practice. Jewel Heart Chaplains are approved by Jewel Heart's Spiritual Director, and are guided by a training and mentoring program, as well as by a code of conduct. Some have professional certification as professionally trained chaplains, or as human services professionals or educators.
HOW DO JEWEL HEART CHAPLAINS WORK?
They work within a network of other Jewel Heart chaplains and local Sangha Councils of the national and international Jewel Heart community, and are supported by extensive web-based resources. Regardless of spiritual orientation, Jewel Heart Chaplains celebrate and support all natural and ongoing manifestations of wise and compassionate action, while also offering additional organized assistance to those who need time-sensitive guidance, support and care.
Disclaimer statement:
As a program of the Jewel Heart Tibetan Buddhist Learning Center, a not-for-profit religious institution, the Jewel Heart Chaplaincy is an organized, unlicensed, volunteer program that provides wise and compassionate support and care to its membership, and the larger community as requested. Its activities do not constitute services provided by other human services programs that are licensed or credentialed by various governmental or professional agencies, such as nursing care, mental health counseling, social work, or education. Instead, the Jewel Heart Chaplaincy provides its services as an adjunct to and in collaboration with these services. Any particular advice or guidance given by individuals associated with the Jewel Heart Chaplaincy does not necessarily represent or reflect the opinion of the institution of Jewel Heart Tibetan Learning Center.

FOR MORE INFORMATION: jhchaplaincy@jewelheart.org