Congratulations To Kyabje Gelek Rimpoche!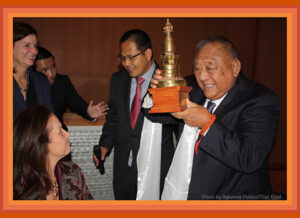 Kyabje Gelek Rimpoche's extraordinary achievements in keeping the cause of the Tibetan people alive under difficult circumstances were celebrated by Tibet Fund at the 6th Annual Tibet Fund Gala on October 14, 2015 in New York.
Jewel Heart congratulates Kyabje Gelek Rimpoche on this well-deserved recognition, with sincere respect for the depth of his commitment and efforts in supporting the Tibetan people.
Posted on Monday, October 19th, 2015