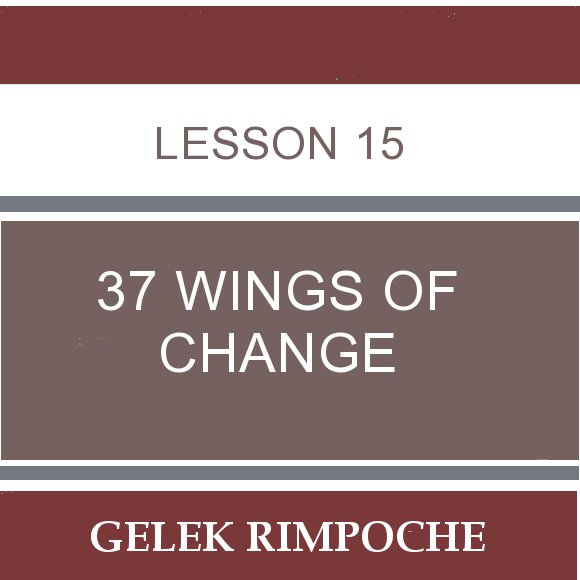 Lesson 15: 37 Wings of Change
Lesson Number 15 of 28
Lesson 15
There are many activities that may enrich our lives, but are they all spiritual ones? In this lesson, Gelek Rimpoche tells us that we must develop the Power of Wisdom to discriminate between mundane and spiritual activities, and prioritize our life according to our spiritual goals. Overcoming this obstacle of "busy-laziness" is necessary in order to reduce our negative imprints and increase our positivity. We also must not give in to the laziness that tells us we are not capable. Taking inspiration from the Buddha, who was once a person just like ourselves, we can see that we only differ from him in the amount of effort we put into our spiritual work.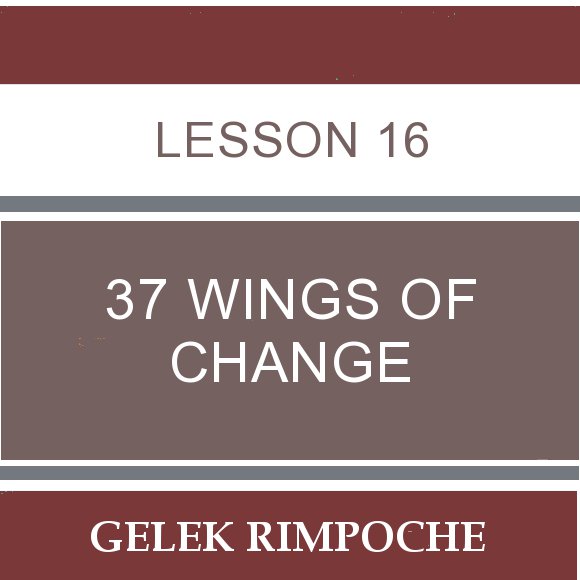 Lesson 16: 37 Wings of Change
Lesson Number 16 of 28
Lesson 16
Among the Five Powers, the Powers of Concentration and Mindfulness help us to rid ourselves of negative emotions. In this lesson, Gelek Rimpoche shows us how to use these two powers specifically to analyze our negative and habitual responses to life. We can first get to the root of these unhelpful habits by focusing with concentration on the causes and results of our habitual patterns. We can then use mindfulness to have an arsenal of antidote actions, ready to apply to those negative habits of mind. These two opponent powers will help us to put an end to our ingrained patterns that act as obstacles to our spiritual development and happiness.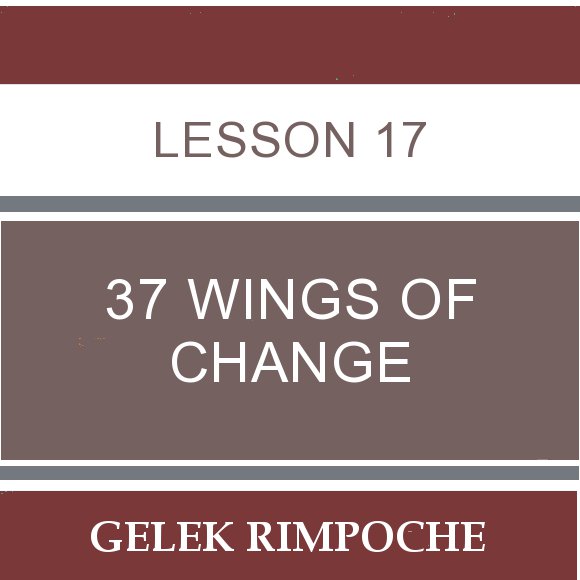 Lesson 17: 37 Wings of Change
Lesson Number 17 of 28
Lesson 17
It is important to know our level of development along the path of our spiritual journey. In this lesson, Gelek Rimpoche explains how the Five Powers, Five Forces, and Seven Branches are developed within the scope of the Second (the path of action) and Third (the path of seeing) of the Five Paths of Mahayana Buddhism. When we begin our journey, we are under the control of our negative emotions. As we start to develop spiritually, we can use guideposts to determine our progress within the Five Paths. As we serve others, we develop many connections, and Rimpoche explains how our connections with the Bodhisattvas, and thereby the divine, are made and strengthened throughout our life and lives.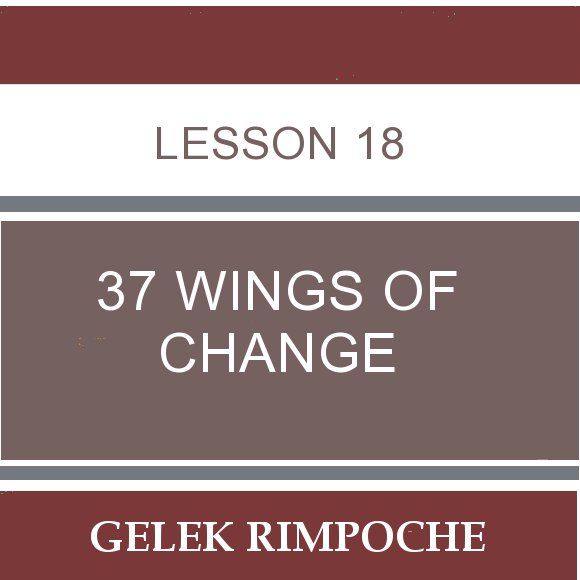 Lesson 18: 37 Wings of Change
Lesson Number 18 of 28
Lesson 18
What are the Seven Branches, and how do they relate to the Five Forces? In this lesson, Gelek Rimpoche teaches us that these Seven Branches are really the intensification of the Five Forces, and are all necessary to achieve total enlightenment. Through the path taught by the Buddha, we may develop the Seven Branches of wisdom, diligence, joy, pleasure, concentration and equanimity. Through this path, we may encounter our true, beautiful Buddha nature.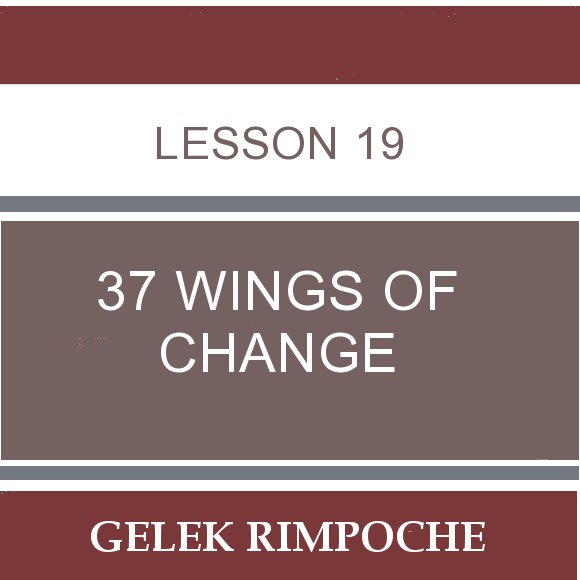 Lesson 19: 37 Wings of Change
Lesson Number 19 of 28
Lesson 19
How are the Seven Branches of Bodhimind represented in Hindu mythological iconography? In this lesson, Gelek Rimpoche explains that the seven branches of internal development are represented in Hindu mythology as the seven items that one must possess in order to be a fully-fledged chakra raja, or Universal King. As each symbol or item is discussed, Rimpoche explains how each icon has a spiritual counterpart, as a quality to be developed by the spiritual
practitioner.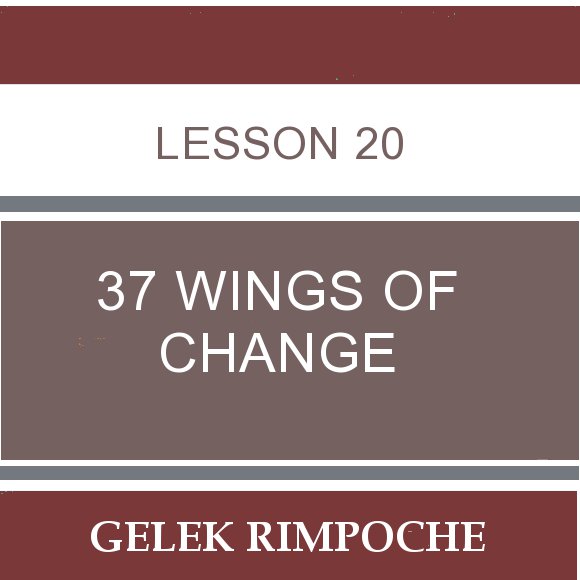 Lesson 20: 37 Wings of Change
Lesson Number 20 of 28
Lesson 20
What is the nature of existence, and why did the Buddha posit that all phenomena are empty? In this lesson, Gelek Rimpoche introduces us to the Eight Fold Path, beginning with the Perfect View. According to the teachings of Shakyamuni Buddha, all phenomena, including ourselves, exist only as a combination of causes and conditions. Rimpoche gives us wonderful examples that illuminate the nature of emptiness, our nature, in simple and understandable terms. The lesson ends with a discussion of death and the 'bardo' experience.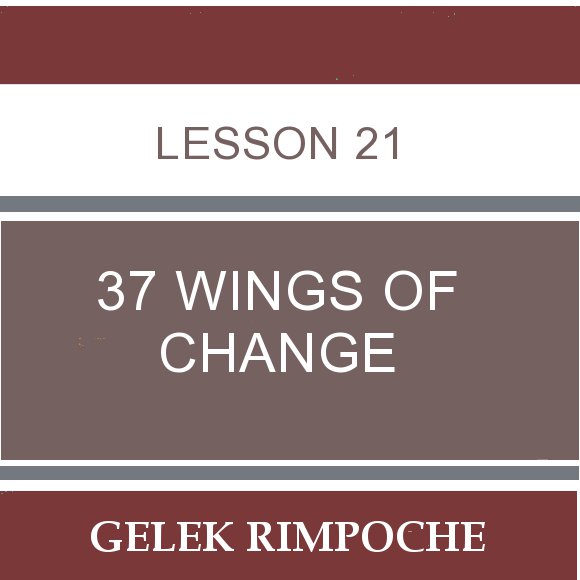 Lesson 21: 37 Wings of Change
Lesson Number 21 of 28
Lesson 21
How is our own death related to the view of emptiness? In this lesson, Gelek Rimpoche teaches us that death is very subtle, as our consciousness disconnects from the world and our senses. We exist in life only as form, name and function, and Rimpoche stresses the importance in this trio of 'name', or labeling. With a reliable mind, it is possible to perceive and label correctly, while at the same time seeing that all phenomena are empty, impermanent, and for the deluded mind, in the nature of suffering. But with Perfect View, suffering can end.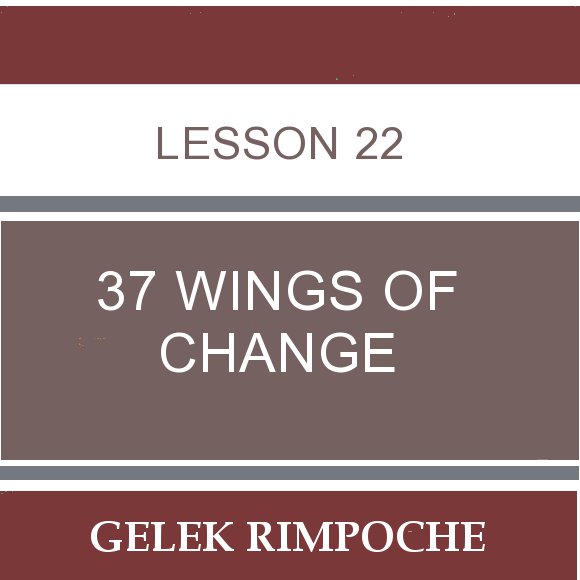 Lesson 22: 37 Wings of Change
Lesson Number 22 of 28
Lesson 22
What does it mean to have Perfect Understanding? In this lesson, Gelek Rimpoche continues his discussion of the Eight Fold Path, moving from Perfect View to Perfect Understanding. Understanding emptiness through reasoning is indirect understanding. Aryas have direct realizations of emptiness during meditation. It is essential to be able to carry those realizations into everyday life, without behaving any differently, nor drawing attention to oneself. One must make the transition from the meditative state to everyday life without contradiction. To do so, one must have Perfect Understanding.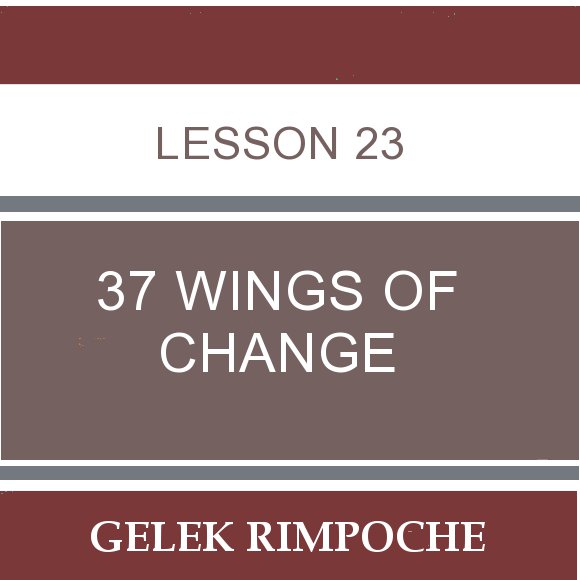 Lesson 23: 37 Wings of Change
Lesson Number 23 of 28
Lesson 23
What does it mean to see the Absolute Truth? In this lesson, Gelek Rimpoche explains that there is no instant enlightenment, but that through knowledge, analytical meditation, and focused concentration we may come to realize the Two Truths, ultimate and conventional truth, and experience a face to face encounter with our own mind.
Lesson 24: 37 Wings of Change
Lesson Number 24 of 28
Lesson 24
What is the truth of our existence? And after discovering that truth, how do we make the transition between our meditative realizations and our daily lives? In this lesson, Gelek Rimpoche explains how perfect understanding lets us move with society's current, but move with a better understanding. In order to be of service to others, one must employ skillful means to be able to translate meditative realizations of the truth to others who are caught in the trap of suffering. Rimpoche teaches us that the development of perfect speech and perfect action will allow us to best assist others.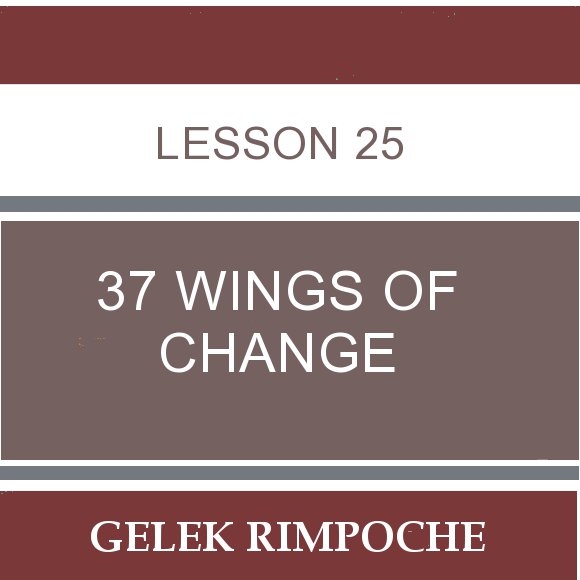 Lesson 25: 37 Wings of Change
Lesson Number 25 of 28
Lesson 25
What is meant by the concept of Perfect Livelihood? In this lesson, Gelek Rimpoche tells us that it is not necessarily about what we do for a living. The combination of Perfect Speech and Perfect Action is the basis of this idea of Perfect Livelihood, and that the true test of one who is practicing this is humility. The absence of the four major faults of speech and three major faults of the body are hallmarks of this level of development. Rimpoche goes on to explain that non-virtuous activities are of two kinds: by nature and by rule, and he illustrates these two with many colorful stories and examples.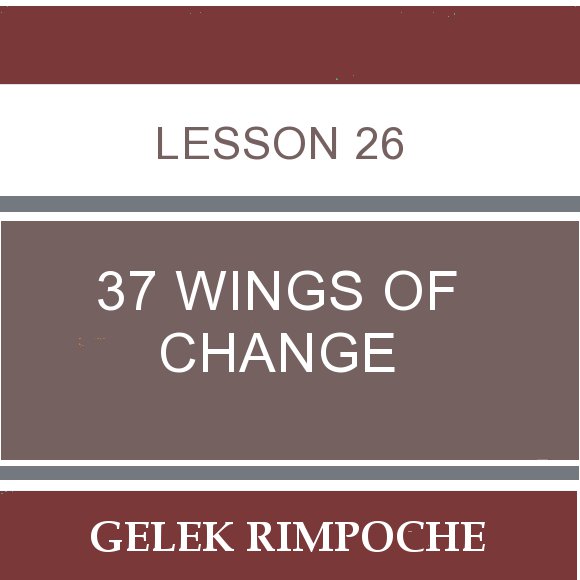 Lesson 26: 37 Wings of Change
Lesson Number 26 of 28
Lesson 26
The concepts of virtue and non-virtue do not exist inherently. In this lesson, Gelek Rimpoche shares the Buddha's common-sense approach to discerning the difference between right and wrong in our daily lives. He asserts that one can never be perfect, and that right action has a wrong quality within it, and wrong action also has a right quality within it. Every action we take creates bad as well as good karma. For this reason, Rimpoche cautions us to not become self-righteous, but to be able to look at our actions and the actions of others from a more balanced perspective.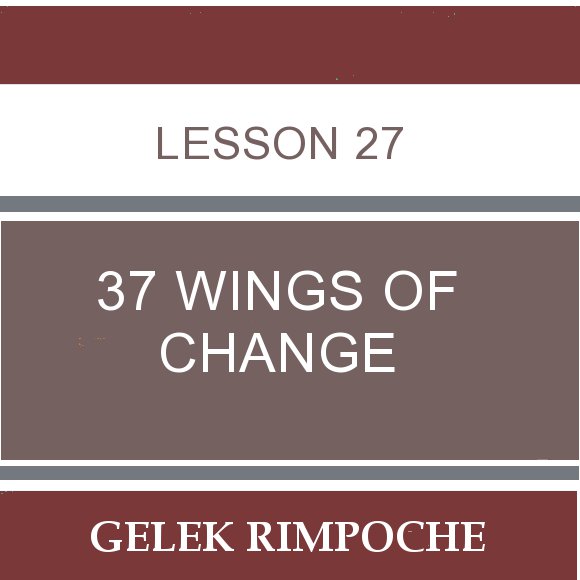 Lesson 27: 37 Wings of Change
Lesson Number 27 of 28
Lesson 27
Mindfulness connects the practice of our commitments to our daily activities outside of our formal meditation practice. In this lesson, Gelek Rimpoche tells us that, even if we miss some of our formal commitments today, we must always hold the mind that keeps the desire to complete our commitments tomorrow and in the future. In the same way, in our daily activities, we must keep the mind of awareness of our delusions, and continue to purify. In this way, practice on and off the cushion works toward our eventual enlightenment.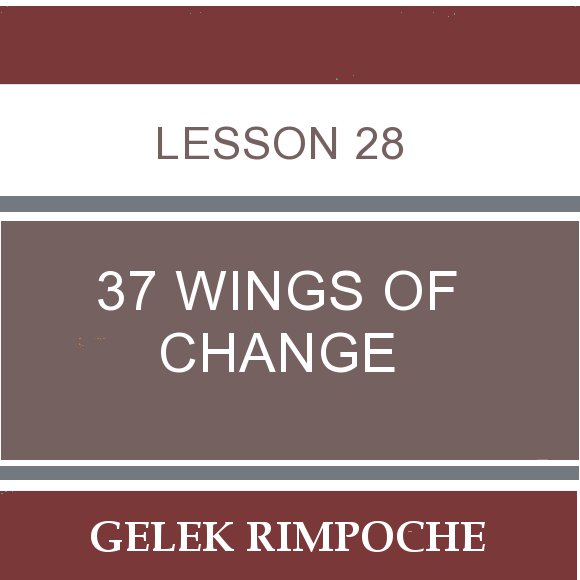 Lesson 28: 37 Wings of Change
Lesson Number 28 of 28
Lesson 28
How can a daily practice, such as the Seven Limb Prayer, help us in our daily life? In this lesson, Gelek Rimpoche explains how to use a daily formal practice and a commitment to mindfulness to be able to clearly see our faults. It is the dharma that helps us build our awareness. Dharma is a mirror, to hold up and examine our faults in order to be able to purify our delusions. With this grounded practice we all can reach enlightenment. Rimpoche ends this last session in the series with a dedication in the manner of the great Indian saint Shantideva, by adding our merit to the vast pool of good karma of the realized beings.