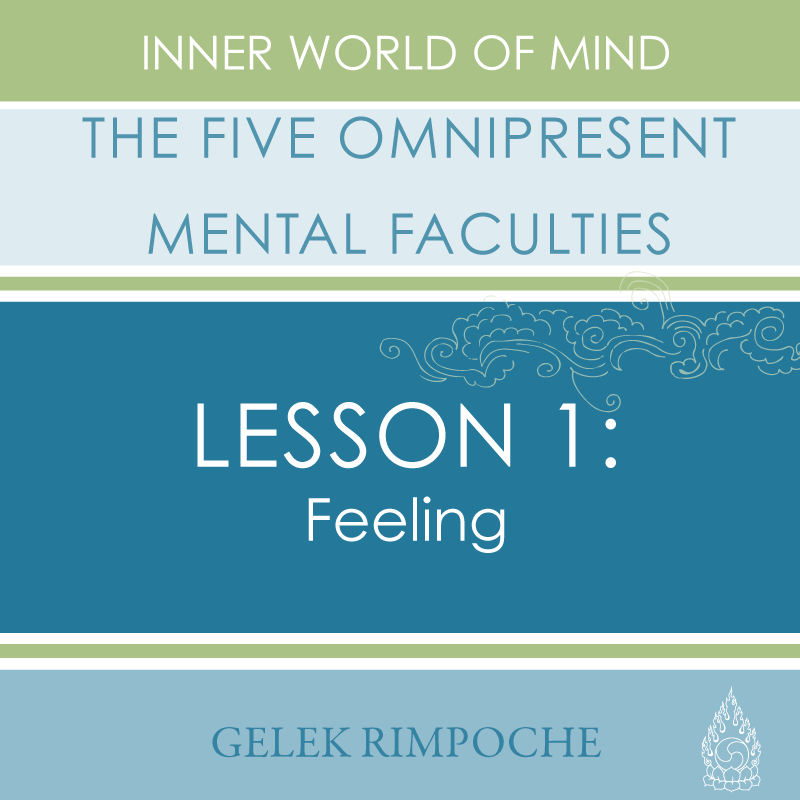 Feeling
Lesson Number 1 of 4
When we talk about the human mind, it seems like one giant, confusing, murky thing. But according to Buddhist psychology, there are 52 mental faculties, or specific subcategories that comprise the mind. Some of these factors function only occasionally, but five of them are always present.
In this lesson, Gelek Rimpoche explains the first mental faculty, called "feeling," which concerns our most fundamental experience of reality: whether we feel good, bad or something in between.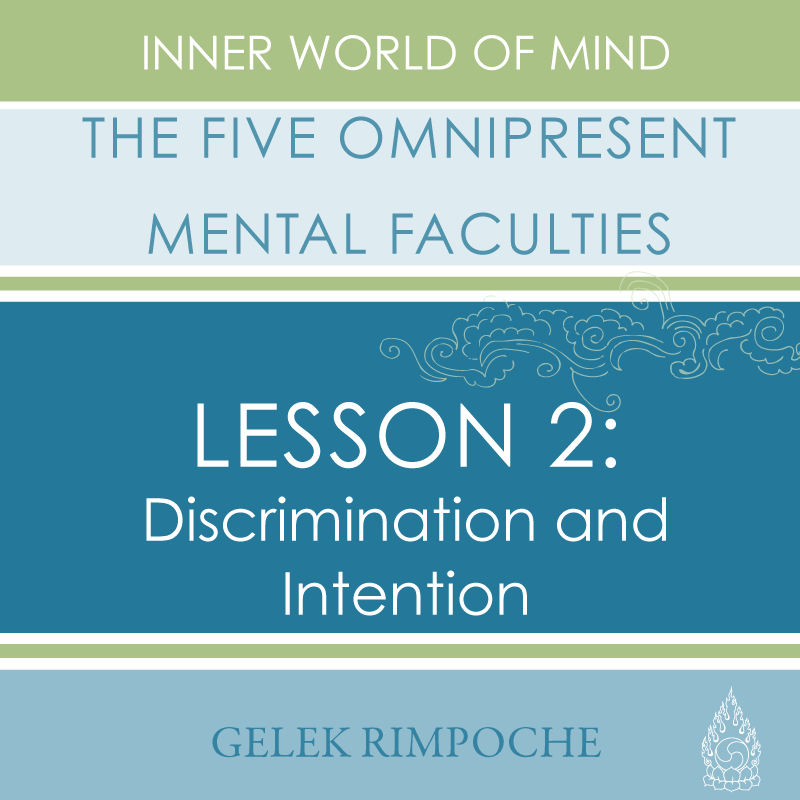 Discrimination and Intention
Lesson Number 2 of 4
When we say we know something, how do we know it? It is through the second mental faculty, called "discrimination," that we discern and label things. Whether we discern rightly or wrongly, the mental faculty of discrimination is essential to the way we relate to the world.
In this lesson, Gelek Rimpoche explains this process, as well as how the third mental faculty, called "intention", draws the attention of our mind to a particular person or object, and sometimes seems to overpower the principal mind completely.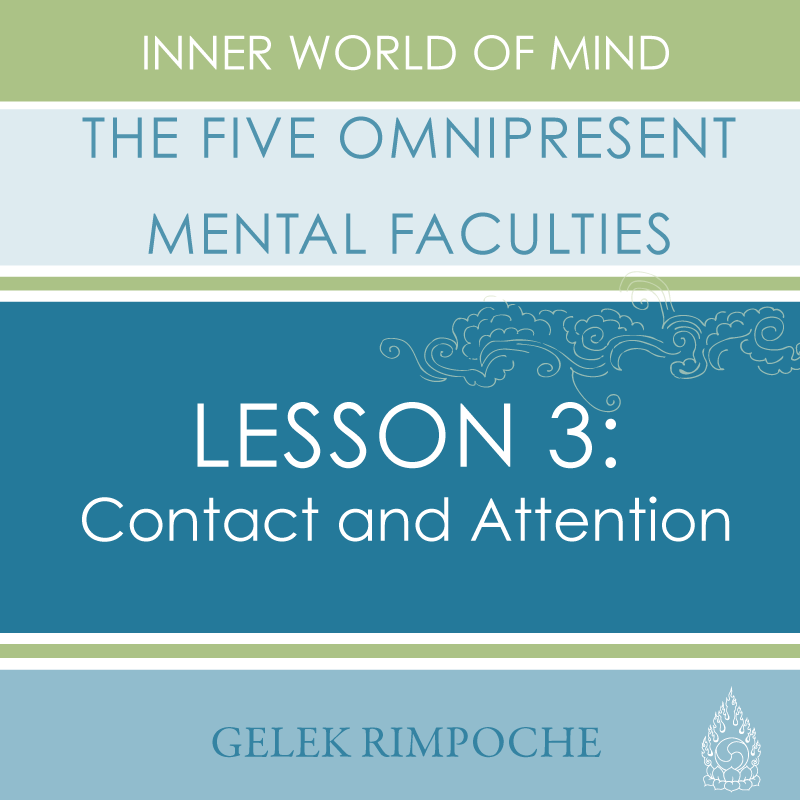 Contact and Attention
Lesson Number 3 of 4
Where do desire and hatred begin within our minds? In this lesson, Gelek Rinpoche explains how the fourth mental faculty, "contact," functions by connecting an object with our principal consciousness as well as a specific sense consciousness.
By providing the basis for us to like or dislike things, this mental faculty has an enormous impact on our daily lives and emotions. Rimpoche then explains how the mental faculty known as "attention" allows our minds to settle on the details of a particular object. This is a fundamental basis for the more developed mental faculties, such as recollection and alertness.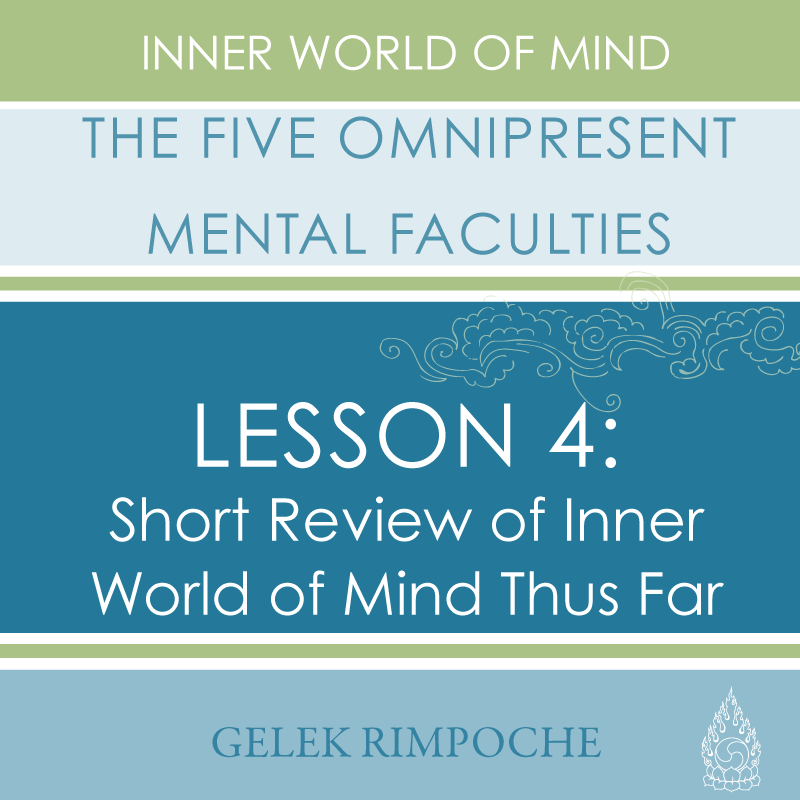 Short Review of Inner World of Mind thus far
Lesson Number 4 of 4
In this lesson, Gelek Rimpoche provides a broader overview of our overall motivation, reminding us our larger purpose in studying the mental faculties. After all, it is our mind alone that determines whether we have a positive or negative experience in life. Without understanding the way our minds function, how can we expect to develop happiness, much less progress on a spiritual path?
After briefly discussing the three scopes of Buddhist practice, Rimpoche then reviews the first five mental faculties covered so far in these lessons. He concludes by reviewing "contact", the process by which we connect with the sensory world, and "attention", which concerns the way we focus on objects.