With the existential crisis of our time, climate change, bearing down on us, there is a need to develop constructive and sustainable solutions. Great strides have been made in generating awareness about climate change, overpopulation, mass extinction of species and other stressors on the environment. In 2019 The City of Ann Arbor declared a Climate Emergency.
Greater awareness of the stark reality of these impending crises is crucially important, but also can lead to feelings of worry and helplessness in what has come to be called "Eco-Anxiety". How can we as individuals make a meaningful difference, and how can we keep a healthy perspective and avoid feeling paralyzed by feelings of anxiety and helplessness?
Buddhism has always emphasized the interdependence of all living beings and the benefit of interacting compassionately, as have other great spiritual traditions, including the traditional spiritual teachings of Native American peoples.
This first Jewel Heart Annual Earth Day Forum will see a dialogue between Tibetan Lama Demo Rinpoche and UM scholars and scientists, activists, and indigenous leaders to address the human and spiritual dimension of sustaining life on this planet.
Jewel Heart will host a second day dedicated to exploring environmental awareness and compassionate action through guided healing meditation, a public talk by Demo Rinpoche, an opportunity for group discussion, a compassion and environment art project, and more, on Sunday, April 19th at the Jewel Heart Ann Arbor Center. This Sunday morning talk will be the first of 4 Sunday talks focused on compassion and the environment.
Click here for Earth Day Day Two
SPEAKERS AND TOPICS:
Demo Rinpoche, Jewel Heart Tibetan Buddhist Learning Center
Mark Hunter, UM Ecology & Evolutionary Biology – The Case for Compassionate Action: What Ecology Has to Offer
Anthony King, Michigan Medicine, UM Department of Psychiatry – Engaging Eco-Anxiety with Mindfulness and Compassion
Mary Carol Hunter, UM School for Environment and Sustainability – Take a Nature Pill to Support your Capacity for Compassion and Stewardship
Avik Basu, UM School for Environment and Sustainability – The Reasonable Person Model: A Psychological Framework for Compassionate Action
Rebecca Hardin, UM School for Environment and Sustainability – The "Compass" in Compassion: New Ways of Navigating Interspecies Relations
Isabelle Osawamick, Native American Anishinaabemowin Language Specialist – TBA
Jonathan Rose, Garrison Institute – TBA
---
COST: Free
SCHEDULE:
| | |
| --- | --- |
| 9:30am | Doors Open |
| 10:00am | Welcome and Introduction |
| 10:00 – 10:55am | Demo Rinpoche |
| 11:00 – 11:30am | Mark Hunter |
| 11:30am – 12:00pm | Anthony King |
| 12:00 – 12:30pm | MaryCarol Hunter |
| 12:30 – 2:00pm | LUNCH |
| 2:00 – 2:30pm | Avik Basu |
| 2:30 – 3:00pm | Rebecca Hardin |
| 3:00 – 3:15 | Isabelle Osawamick |
| 3:20 – 4:00pm | Jonathan Rose |
| 4:00 – 4:50pm | PANEL moderated by Anthony King |
| 4:50 – 5:00pm | Concluding Remarks by Demo Rinpoche |

---
Demo Rinpoche – Resident Spiritual Advisor, Jewel Heart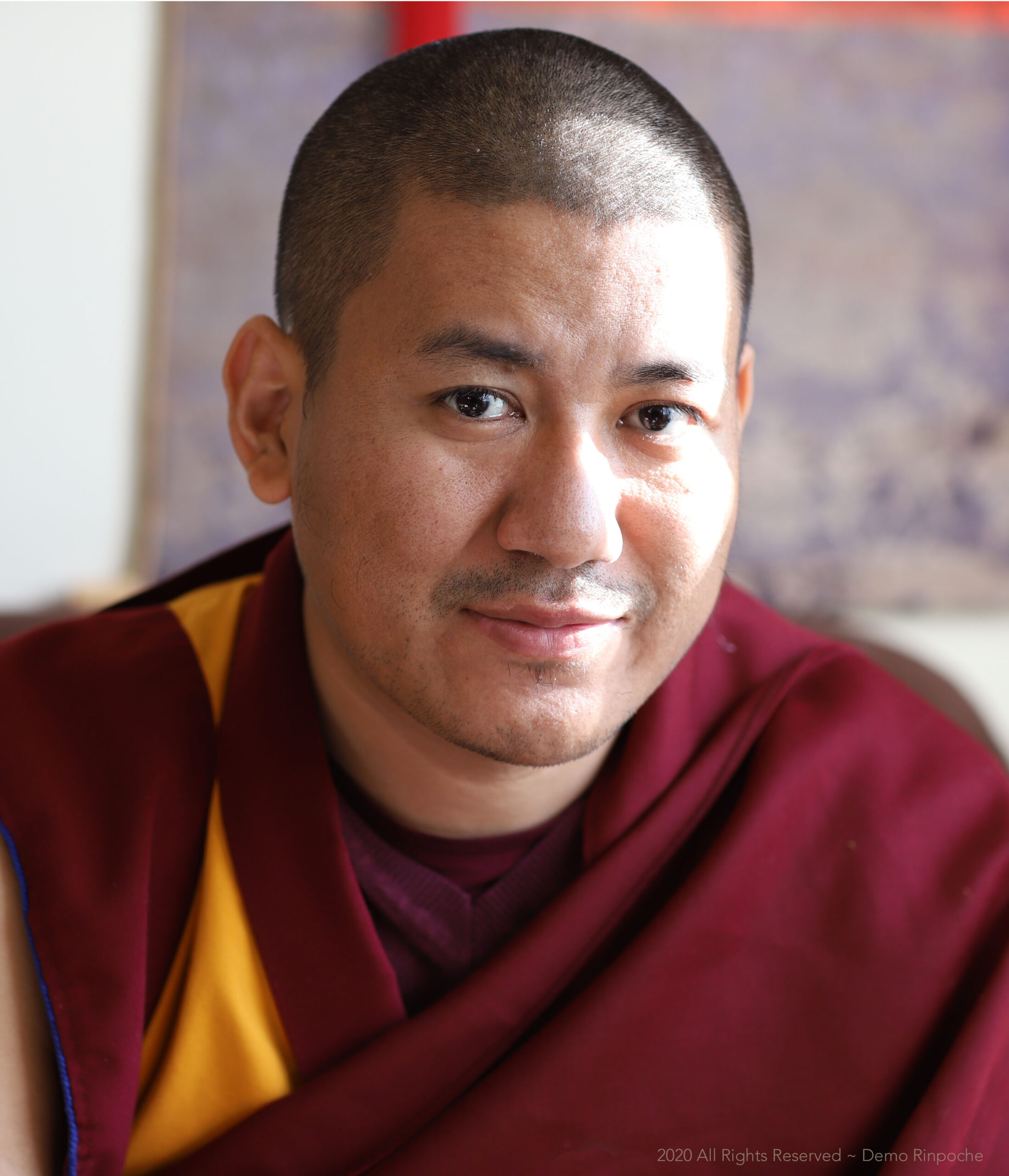 Demo Rinpoche entered Drepung Loseling Monastery in Mundgod at the age of five and officially joined the monastery in 1987, where he spent nearly thirty years of uninterrupted education in meditation, debate, memorization, philosophy, and composition under the Dalai Lama's direct supervision. After completing his studies at Drepung, Rinpoche received the highest monastic degree of Geshe Lharampa from Gelugpa University in India in 2011. He continued his studies at Gyume Tantric College and was a visiting scholar under the auspices of the Dalai Lama at Sarah College of Higher Tibetan Studies in Dharamsala. At the request of Gelek Rimpoche, Demo Rinpoche came to the United States, where he received his Master's Degree in Inter-Religious Engagement from Union Theological Seminary in New York City in 2018. Currently based in Ann Arbor, Michigan, he serves as the Resident Spiritual Advisor at Jewel Heart.
---
THE CASE FOR COMPASSIONATE ACTION: WHAT ECOLOGY HAS TO OFFER
Mark D. Hunter – Department of Ecology and Evolutionary Biology – University of Michigan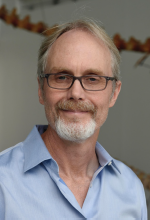 Mark Hunter is the Earl E. Werner Distinguished University Professor of Ecology and Evolutionary Biology at the University of Michigan. He received his bachelor's degree in 1984 and his doctorate in 1988, both from the University of Oxford in England. After serving as a NATO International Fellow and an NSERC International Fellow, he joined the faculty of the University of Georgia in 1995. While at UGA, he served as Professor in the Institute of Ecology and as founding Director of the Center for Biodiversity and Ecosystem Processes. He joined the University of Michigan in January 2006. His research focuses on understanding how populations of animals and plants influence the flow of energy and cycling of matter in ecosystems. He applies his research to the conservation of species and to mitigating the impacts of global environmental change. Professor Hunter has published over 165 research articles and written or edited six books. In 2014, he was elected a Fellow of the Ecological Society of America. Media coverage of his research includes the BBC, CNN, CBC, ABC, The National Geographic, Scientific American, and National Public Radio/Public Radio International.
https://lsa.umich.edu/eeb/people/faculty/mdhunter.html
---
ENGAGING ECO-ANXIETY WITH MINDFULNESS AND COMPASSION
Anthony King – Department of Psychiatry – University of Michigan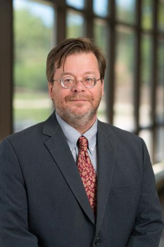 Anthony King is an Assistant Professor of Psychiatry, an adjunct Assistant Professor of Psychology, and a faculty associate of the Institute for Social Research and the Neuroscience Graduate Program at the University of Michigan, a fully-licensed Psychologist in the state of Michigan, and a staff psychologist of Michigan Medicine Psychiatry Anxiety Disorders program. He completed a bachelor's degree from the Residential College in 1990 and PhD in Molecular & Integrative Physiology at the University of Michigan in 1996, followed by a postdoctoral fellowship studying electrophysiology of stress hormone and neuropeptide (opioids & glucocorticoids) effects on neurotransmission. To follow his interest in effects of stress, trauma, and anxiety on human psychology and neuroscience, he completed a MS in Clinical Psychology in 2004 from Rutgers University, a postdoctoral fellowship in human neuroimaging (PET and fMRI) in the Dept. Psychiatry at the University of Michigan in 2010, a PhD in Clinical Psychology from Fielding Graduate University in Santa Barbara in 2015, and a Clinical Psychology postdoctoral fellowship at the Mary A. Rackham Institute in 2017. His research focuses on the effects of stress and trauma on people, including alterations in large-scale neural networks in the brain, altered sympatho-adrenal neuroendocrine and immune function, and mental health syndromes like anxiety, depression, and posttraumatic stress disorder (PTSD). He studies neural and physiological mechanisms underlying psychotherapeutic change, and is the Principal Investigator of NIH-funded clinical trials of Mindfulness-based Cognitive Therapy (MBCT) for PTSD and pre-post fMRI neuroimaging studies that are currently actively recruiting. He has published over 50 research articles and 6 book chapters, and media coverage of his work includes CNN, the BBC News, the Washington Post, US News Health, and Science Daily.
---
TAKE A NATURE PILL TO SUPPORT YOUR CAPACITY FOR COMPASSION AND STEWARDSHIP
MaryCarol R. Hunter – School for Environment and Sustainability – University of Michigan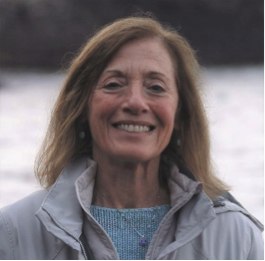 MaryCarol Hunter is an Associate Professor in the School for Environment and Sustainability at the University of Michigan. As a licensed landscape architect and ecologist, her research program encompasses social, psychological and ecological aspects of sustainable urban design. Recent work offers adaptive strategies for the design of resilient urban green space under climate change. Current research investigates the impact of nature experiences on mental wellbeing. She also develops research-based design guidelines that support urban sustainability by creating places that people appreciate and steward. Her formal training includes an undergrad degree in Zoology (University of California at Berkeley), a PhD in Ecology (SUNY at Stony Brook), then a Masters of Landscape Architecture (University of Georgia). Her academic research has resulted in 40 publications across several fields of study.
https://seas.umich.edu/research/faculty/marycarol_hunter
---
THE REASONABLE PERSON MODEL: A PSYCHOLOGICAL FRAMEWORK FOR COMPASSIONATE ACTION
Avik Basu – School of Environment and Sustainability – University of Michigan
Avik Basu is a lecturer and researcher in environmental psychology at the University of Michigan School for Environment and Sustainability. He also leads the UM delegation to the annual United Nations Climate Conference through which he works with students to translate international climate efforts into local action at the university and Ann Arbor. His research includes sustainable development in the developing world, understanding the differences between experts and laypeople in environmental decision-making, the role environments play in depleting and restoring our capacity to pay attention, and designing environments that simultaneously enhance individual and communal well-being. Over the last 15 years, he has been part of a collaborative effort to develop a framework, known as the Reasonable Person Model, to help practitioners from various disciplines create conditions that improve human well-being. He co-edited/co-authored a book on these topics called Fostering Reasonableness: Supportive Environments for Bringing out our Best. His current research interests, inspired by his experiences as a beginner meditator, attempt to connect a scientific understanding of attention with a contemplative and spiritual perspective on the nature of consciousness. Avik earned a Ph.D. in Environmental Psychology and a Master's/Bachelor's in Electrical Engineering, all from the University of Michigan.
---
THE "COMPASS" IN COMPASSION: NEW WAYS OF NAVIGATING INTERSPECIES RELATIONS
Rebecca Hardin – School for Environment and Sustainability – University of Michigan
Rebecca Hardin is an Associate Professor in the School for Environment and Sustainability at the University of Michigan. An anthropologist by training, her areas of interest and scientific study include human/wildlife interactions, and social and environmental change related to wildlife management, tourism, logging, and mining in equatorial Africa, especially the western Congo basin. Collaborative projects also focus on the increasingly intertwined practices of health, environmental management, and corporate governance in southern and eastern Africa, including sites in South Africa and Kenya. She founded and coordinates SEAS's Environmental Justice Certificate Program for students across the UM campus working in or studying communities who are or have been negatively impacted by environmental harms, or experiencing inequality of access to environmental goods and ecosystem services. Professor Hardin also directs a team of software developers, scientists and educational design and assessment experts who are building an interactive open access repository of interdisciplinary problem-solving cases. She has led the development of one library on that platform: the Michigan Sustainability Cases. Professor Hardin is also the lead editor of the critically-acclaimed volume, Transforming Ethnographic Knowledge, published by the University of Wisconsin Press.
---
Jonathan F.P. Rose – Garrison Institute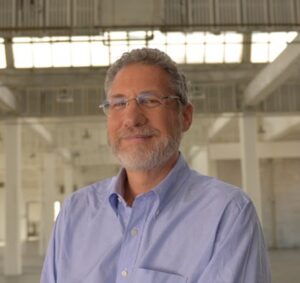 Jonathan F. P. Rose's business, public policy and not-for-profit work all focus on creating more environmentally, socially and economically resilient cities. In 1989, Mr. Rose founded Jonathan Rose Companies LLC, a multi-disciplinary real estate development, planning, project management, and investment firm, to address the challenges of the 21st century.
The firm's innovative work has won awards from a wide range of notable organizations including: the Urban Land Institute, the National Trust for Historic Preservation, the Natural Resources Defense Council, the American Planning Association and the American Institute of Architects. He also advises global cities on planning, affordable housing, environmental, and social issues.
Mr. Rose's book on how to create resilient cities, The Well-Tempered City: What Modern Science, Ancient Civilizations and Human Nature Teach Us About the Future of Urban Life, was published by Harper Wave in 2016, and won the 2017 PROSE Award for Outstanding Scholarly Work by a Trade Publisher. Mr. Rose advises the Government of Bhutan on city planning, green schools and other issues.
Mr. Rose and his wife Diana Calthorpe Rose are the co-founders of the Garrison Institute and he serves as co-chair on its Board. The Institute connects inner transformation with outer solutions to relieve suffering in the fields of trauma, education and the environment.