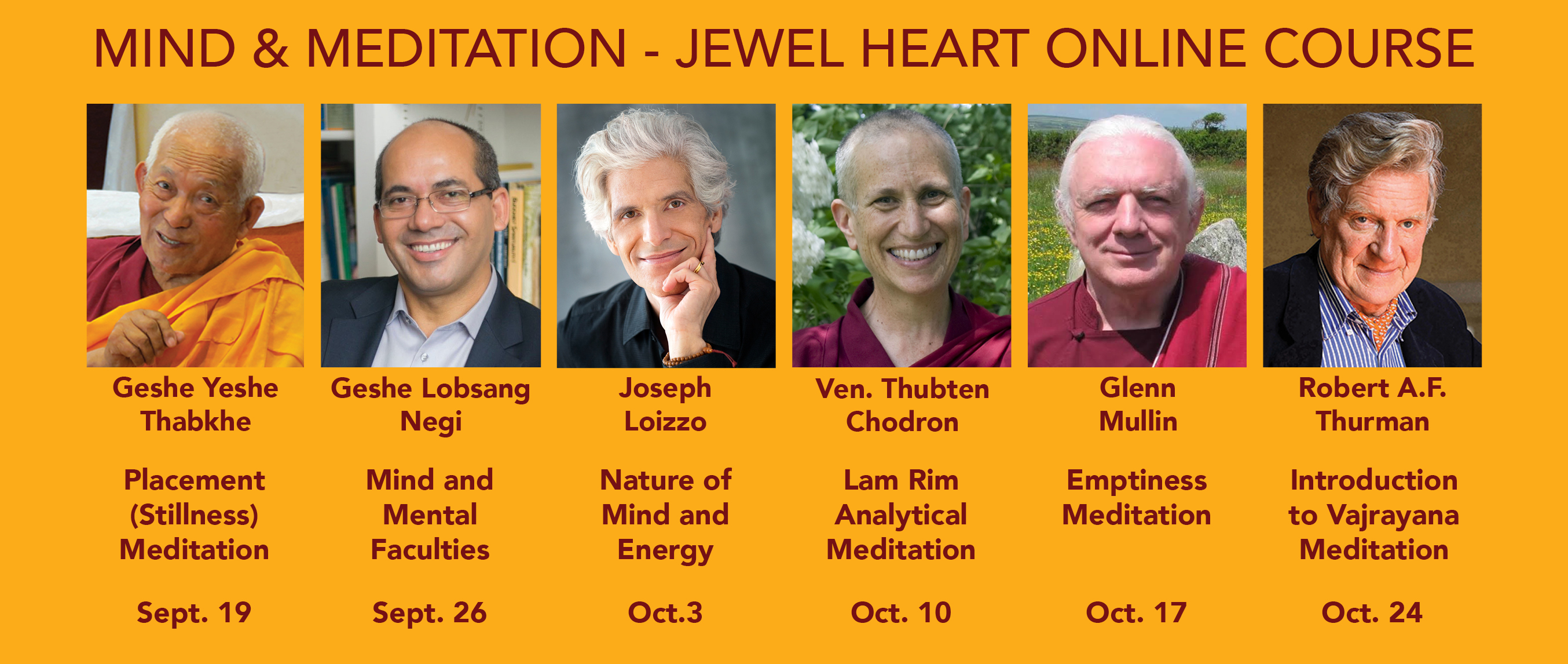 This online course will explore the various types of meditation that are practiced in Tibetan Buddhism.
Join guest speakers Geshe Yeshe Thabkhe, Geshe Lobsang Negi, Joseph Loizzo, Venerable Thubten Chodron, Glenn Mullin and Robert A. F. Thurman over the course of six weeks in this exploration of the nature of mind and meditation.
Jewel Heart Chapters will offer follow-up workshops for discussion and practice based on this course. Check with your local Jewel Heart chapters for their related programs.
DATES/TIME/LOCATION
Thursdays, September 19 – October 24, 2019
7:00 – 8:30pm Eastern Time
Online Course with selected onsite locations
PROGRAM SCHEDULE
SEPTEMBER 19 – GESHE YESHE THABKHE
PLACEMENT MEDITATION
Placement or concentrated meditation is the foundation of all meditations. The object of focus can vary according to the practitioner's goals. The basic obstacles to placement meditation at the beginning stage are sinking and wandering. Various mindfulness techniques can help overcome these obstacles and strengthen the ability to focus.
Live from Jewel Heart Ann Arbor and online/on-demand
SEPTEMBER 26 – GESHE LOBSANG NEGI
MIND AND MENTAL FACULTIES – HOW THE MIND WORKS
This session will explore how the mind functions and why the mind is capable of developing positive mental faculties through meditation.
Live online and on-demand
OCTOBER 3 – JOSEPH LOIZZO
NATURE OF MIND AND ITS ENERGY
An exploration of the basic foundations of mind and energy needed to meditate. It is also a preparation for meditating on Mahamudra and Vajrayana meditations.
Live from Jewel Heart New York and online/on-demand
OCTOBER 10 – VENERABLE THUBTEN CHODRON
LAM RIM ANALYTICAL MEDITATION
This talk will explain the process of meditative analysis that leads to generating insight and focusing on that insight as an experiential conclusion. It includes generating positive emotions and focusing on them. Analytical meditation on Lam Rim (Stages of the Path to Enlightenment) covers the topics from precious human life up to the six transcendental activities of a bodhisattvas.
Live online and on-demand
OCTOBER 17 – GLENN MULLIN
ULTIMATE NATURE OF MIND MEDITATION (EMPTINESS MEDITATION)
Meditation on the emptiness of mind itself is particularly powerful because it directly contradicts the subtle grasping at self.
Online and on-demand
OCTOBER 24 – ROBERT A.F. THURMAN
INTRODUCTION TO VAJRAYANA MEDITATION
Vajrayana meditation is a powerful practice that uses imagery, mantras, channels and chakras to accelerate and deepen the realizations from the previous five areas of meditation covered in this course.
Online and on-demand
Fee: $75
---
---