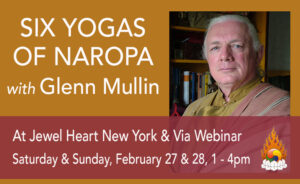 The SIX YOGAS OF NAROPA are perhaps the most widespread approach to completion stage tantric practice in Tibet. Originally transmitted from Naropa to his Tibetan disciple Marpa, the lineage was quickly absorbed by all schools of Tibetan Buddhism.
Glenn, who has published two books on the tradition, originally received the oral transmission of the Six Yogas as part of his studies and training in Dharamsala between 1972 and 1992.
The workshop is open to everyone, although anyone wishing to seriously pursue the practice should eventually seek out the empowerments associated with the tradition.
Participation is available both onsite at Jewel Heart NY and via Webinar.
Jewel Heart New York – 260 W. Broadway, NYC, NY 10013
Glenn Mullin is a Tibetologist, Buddhist writer, translator of classical Tibetan literature, and teacher of Tantric Buddhist meditation. He lived in the Indian Himalayas between 1972 and 1984, and studied philosophy, literature, meditation, yoga, and the enlightenment culture under 35 of the greatest living masters of the 4 schools of Tibetan Buddhism. He is author of over 30 books on Tibetan Buddhism, founded and directed the Mystical Arts of Tibet, and has curated a number of important Tibetan art exhibitions.
Event Fee: $50 – Registration required for both onsite and webinar attendance.
Click here to register
Questions? Write registration@jewelheart.org or call 734 994 3387 x 221