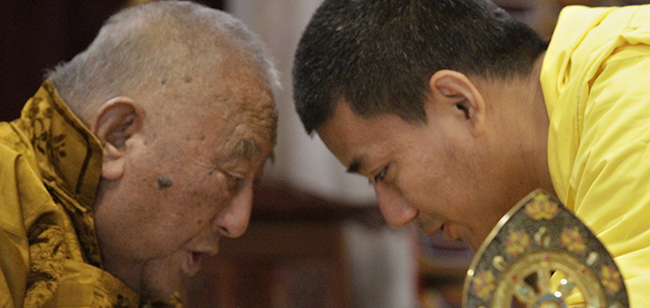 Help us to continue our shared vision to present, preserve and distribute the wisdom and compassion of authentic Tibetan Buddhist teachings to everyone.
Create a legacy for years to come by making Jewel Heart a beneficiary through:
Bequest in your Will or Trust
Life Insurance Policy
IRA, retirement plan or bank account
Charitable remainder trust or similar vehicle
Jewel Heart's not-for-profit 501(c)(3) status allows your contribution to be tax deductible to the extent permissible under the law.
---
A Message from Philip Glass
It is important now that we take a moment to reflect upon the role of the Three Precious Jewels.
We, as members of Jewel Heart, are, in fact, part of the Sangha, the third, but not least of, the Three Precious Jewels. As such it is most important for us to understand and appreciate the role of the Sangha in the Buddhist tradition. Like the power of the Lineage, the power of the Sangha has been essential in sustaining and preserving a Buddhist view in the world today. Furthermore, the strength of the Sangha is a result of the collective commitment of the individuals who make up its membership. One can say that through this collective commitment the Sangha has been able to provide refuge and protection for its members. In this way the Buddha has fashioned the third part of the Three Precious Jewels which has, no doubt, been so important in insuring that his teachings would spread and flourish throughout the ages.
As members of The Jewel Heart community and because of our connection through Gelek Rimpoche's Lineage, we share a real and authentic connection with the larger Buddhist Sangha.
This is both a blessing and a responsibility.
—Philip Glass