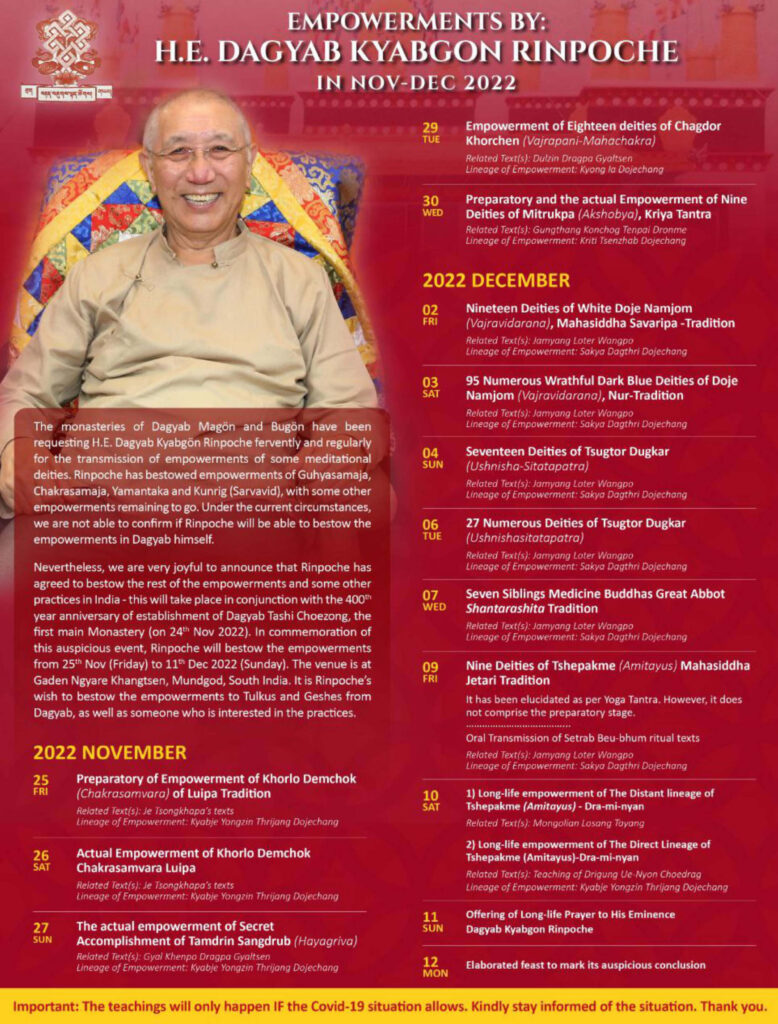 Jewel Heart is pleased to announce the 2022 JH Pilgrimage which will include attending the empowerments and teachings by H.E. Dagyab Kyabgon Rinpoche at Ganden Nyagre Khamtsen Monastery, Mundgod, South India from November 25 to December 11, 2022. Please check Rinpoche's detailed schedule of teachings and empowerments above. This schedule is subject to change for numerous reasons beyond our control.
The central theme of this pilgrimage is attending a series of Vajrayana empowerments given by H.E. Dagyab Rinpoche at Ganden Monastery, including some Highest Yoga Tantra initiations. If you have previously received Highest Yoga Tantra initiation, there will be no additional daily commitments, as you already have the commitment of saying the Six Session Guru Yoga every day. Those who how are taking these initiations for the first time will receive this commitment. Let us know if you are coming as soon as you can – space is limited.
During the breaks we will visit the following monasteries and more:
Drepung Loseling Monastery (around 3000 monks)
Drepung Gomang Monastery (around 2000 monks)
Ganden Shartse Monastery (around 1700 monks)
Ganden Jangtse Monastery (around 1500 monks)
Jangchub Choeling Nunnery Monastery (around 250 nuns)
Rato Dratsang Monastery (around 500 monks)
Sakya Monastery (around 250 monks)
Guru Rinpoche statue (25 feet tall) at Norbu Ree
The group will also visit many Rinpoches and Great Masters during the breaks.
Vaccination Status: All participants are required to have been fully vaccinated for Covid-19 and to have received the pertinent booster(s) (Pfizer, Moderna or Johnson & Johnson), in time for the vaccine and booster(s) to be fully effective. Participants will be required to present proof of vaccination and booster – card or photo on phone – to Jewel Heart and as needed to travel. Please note, Jewel Heart is monitoring the Covid -19 situation carefully and it is possible, that Jewel Heart and/or international travel authorities, may require an additional booster or vaccine for travel.
Important: The teaching/trip will be cancelled if: 1) fewer than 10 people sign up (in which case, we will cancel by September 30th), 2) Dagyab Rinpoche cancels his program, 3) Covid-19 restrictions change or 4) other unforeseeable circumstances occur. As we note elsewhere, please ensure you have the proper insurance to cover cancellation losses.
All the participants agree to follow the country's rules and regulations during the trip. Each person who participates accepts that unexpected risks may arise and does not hold Jewel Heart responsible for any unforeseen events involved with attending the 2022 pilgrimage to Mundgod, South India.
If anyone would like to join this wonderful trip, please fill out the Registration Form and Tour Payment Schedule form. If you need any other information, please feel free to email: ujjen@jewelheart.org or call (734) 994-3385.