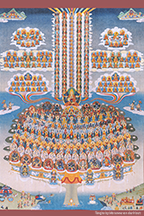 Jewel Heart is dedicated to the preservation of Tibetan Buddhism and to bringing the practice of this rich tradition within the context of contemporary life to everyone. Jewel Heart provides opportunities for individuals to study and practice at all levels of interest, including advanced Vajrayana practice, carrying on the living tradition of Tibetan Buddhism in the West.
Vajrayana practice requires a full initiation from a qualified teacher. If you have any questions about this, please email programs@jewelheart.org or call 734-994-3387.
Vajrayana Group Practice
July 15, 2023 Vajrayogini self initiation
October 28, 2023 Vajrayogini self initiation
January 6, 2024 compulsory tsoh day Vajrayogini self initiation
We have also scheduled a Heruka Lama Chopa for the second compulsory tsoh day on January 20, 2024. Gelek Rimpoche had introduced in this practice in detail at the 2013 Winter Retreat and to some extent in previous Lama Chopa teachings.
Visiting Lamas Teachings and Initiations
We have invited Tokden Rinpoche to give a Yamantaka, Vajrayogini and Chittimani Tara initiations in in August or September 2024.
We plan to invite Dagyab Rinpoche to Ann Arbor to give a teaching and initiation in 2025 depending on his availability.