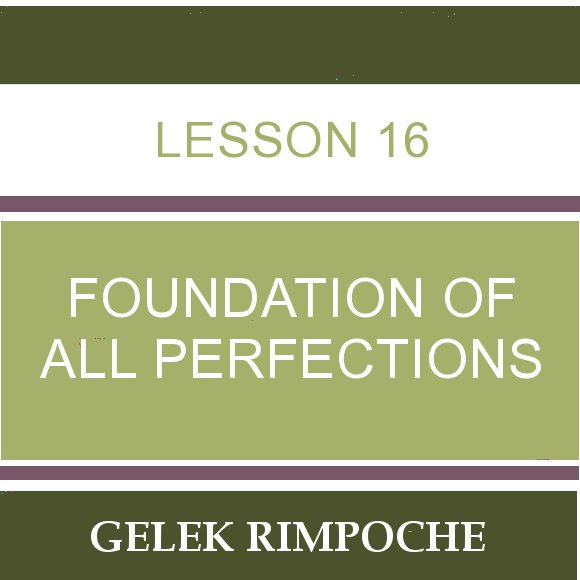 Lesson 16 – Foundation of All Perfections
Lesson Number 16 of 30
Lesson 16: Addictions Are Unreliable and Not Worthy of a Lucid Mind
If we do not have the skills to work with karmic law ourselves, and we know we are near death, Gelek Rimpoche tells us that taking refuge in Buddha, Dharma, and Sangha, will help. Yet refuge requires our participation, and in order to be that participant we must look closely at our addiction to unworthy things. We look down on drug addicts or alcoholics, which is very wrong. Although their addictions are more vivid, we are equally addicted to our negative emotions. And these addictions cause difficulties that go into life after life. These things we are addicted to are unreliable, and not worthy of a lucid mind. That's why Buddha emphasized renunciation, because happiness if not found in what we normally think will make us happy.
Lesson 17 – Foundation of All Perfections
Lesson Number 17 of 30
Lesson 17: Can a Spiritual Path Be Built on Material Goals?
Can one's spiritual path actually be a samsaric path? Yes, says Gelek Rimpoche, if that path is actually built upon material goals. Within samsara, the realm of pervasive suffering, every action we take can create more suffering, even our meditation practice. Rimpoche tells the story of a great anti-Buddhist debater who discovers the beauty of Buddha's teachings and realizes that the goal is not to reach the highest meditative level, but to get out of samsara completely. The Buddhist path is set apart from others because it is based on personal experience and is designed to end suffering. However, spiritual paths can get material goals built into them, like long life, etc. This includes Buddhism.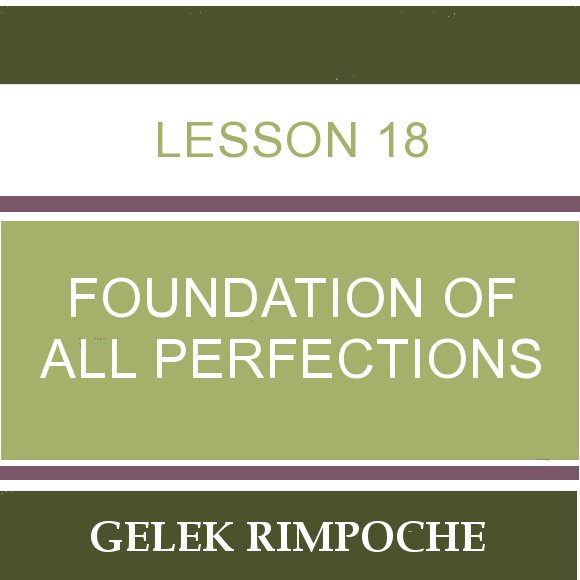 Lesson 18 – Foundation of All Perfections
Lesson Number 18 of 30
Lesson 18: What Should Be the Goal of Our Spiritual Path?
It is very difficult for us to tell the difference between dharmic and non-dharmic goals, simply because we have no real experience with nirvana. Until we actually understand samsara and karma, our path will not be a dharmic path. We will continue to chase after "samsaric picnic spots" until we see the unreliability inherent within those spots. Samsara picnic spots are not reliable, they are changeable, and that's why they are still in the realm of suffering. We can enjoy those picnic spots, but we should not become a slave to creating them. If your purpose is geared toward building a better samsara, then it is not dharma. If your purpose is getting out of samsara, then it is dharma, regardless of the amount of effort put in. Even a three-year retreat can be samsara practice, and not dharma practice. It's not the dharma that you do, it's the motivation of the person who practices that makes it dharma or not.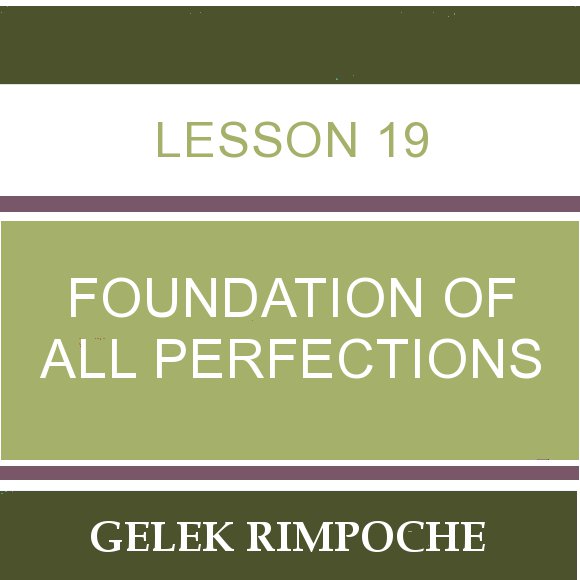 Lesson 19 – Foundation of All Perfections
Lesson Number 19 of 30
Lesson 19: Samsaric Picnic Spots versus Real Happiness
What is the best gift that the Buddha has given us? Gelek Rimpoche tells us that it is the gift of satisfaction. In order to be satisfied we must be able to discern between our self and our ego. When we are able to do that, we can see the difference between a "samsaric picnic spot" and real happiness. Rimpoche explains how developing and maintaining awareness and alertness can lead us to perfect morality, leading us also to true satisfaction within our lives. When we fail to progress on our spiritual path, it is because our goals are not clear. Our motivation should be to be totally free from samsara. We have to explore for ourselves why we should have that motivation, or our practice will be very unreliable.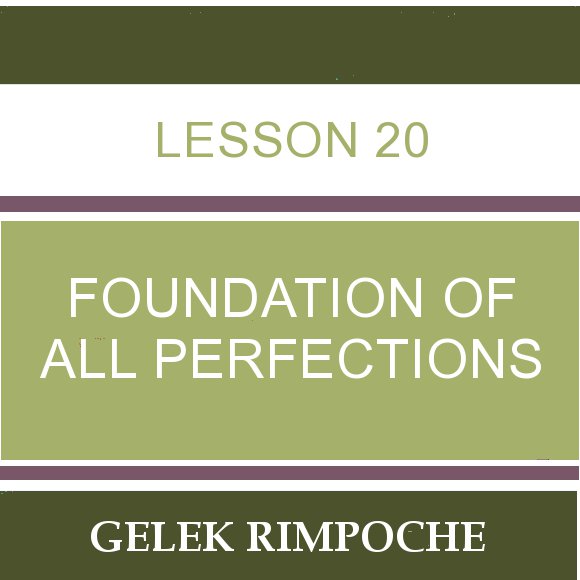 Lesson 20 – Foundation of All Perfections
Lesson Number 20 of 30
Lesson 20: First Develop Love and Compassion for Yourself
In order to develop love and compassion for others we must first develop them for ourselves. But do we even know what love and compassion are? Gelek Rimpoche tells us that our mistaken idea of pleasure is nothing more than ignorance and confusion. It is our habit to ignore our body and our wellbeing until we develop some kind of pain. But often we cannot even distinguish between pain and pleasure in our lives. Dedicating for the benefit of all sentient beings is easy to say, difficult to comprehend. Developing ultimate love and compassion is a very slow and gradual process. All Tibetan prayers begin with "I and all sentient beings." The first path given to us is to take care of our self spiritually. Then when we have developed that love and compassion for ourselves, we use that experience to develop it for others.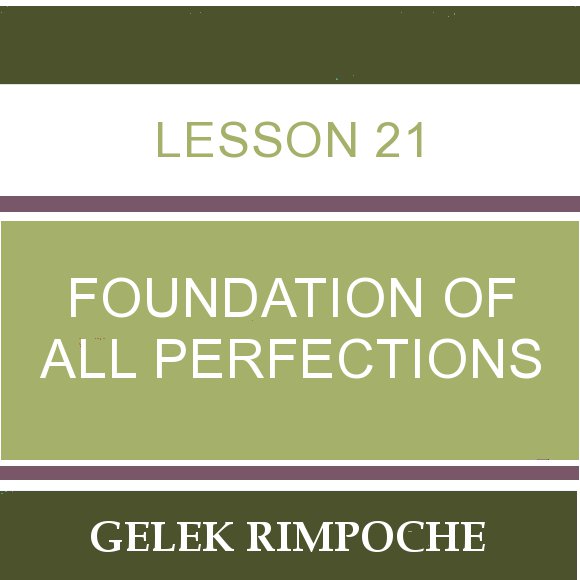 Lesson 21 – Foundation of All Perfections
Lesson Number 21 of 30
Lesson 21: Aren't We All Capable of Love and Compassion?
Gelek Rimpoche explains that, at our level of development, what we experience is emotion rather than true love and compassion. We don't understand the source of our emotional pain. So, our first goal as practitioners is to remove that which causes our emotional pain— "me, my, mine." Our big ego suffocating us is the source of our pain, and is the object of negation. Really seeing this brings tremendous freedom. We start to remove the source of our pain by developing the four layers of equanimity taught in LoJong.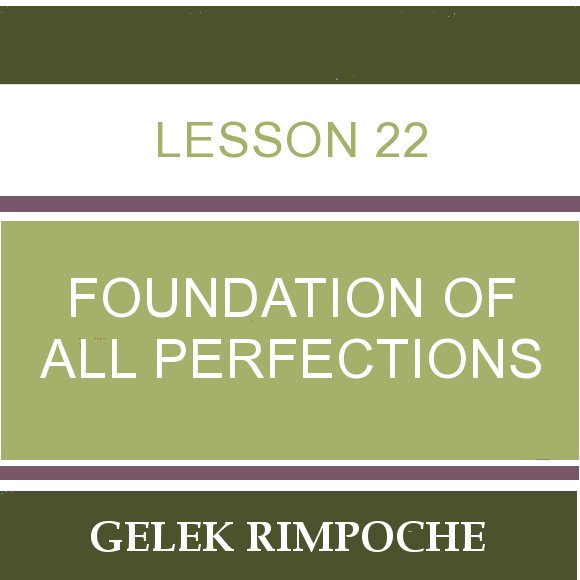 Lesson 22 – Foundation of All Perfections
Lesson Number 22 of 30
Lesson 22: How Can We Develop True Love and Compassion?
Gelek Rimpoche continues his detailed guided meditation on the seven stages of developing Bodhimind, urging us to begin with those we are closest to, developing a strong desire for those we love to be happy and free from suffering. Meditating on love and compassion by visualizing nameless, faceless dots is not effective, so we should begin with those who are close to us. Love and compassion are two aspects of the same mind. Love wishes happiness, compassion wishes freedom from suffering.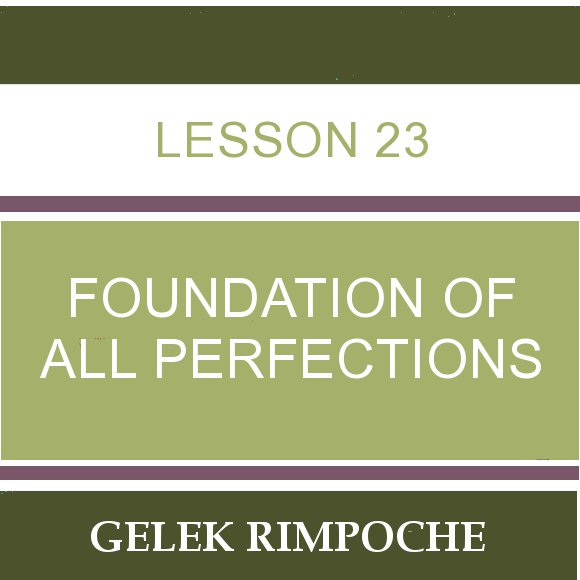 Lesson 23 – Foundation of All Perfections
Lesson Number 23 of 30
Lesson 23: Our Spiritual Path Must Be Solid and Meaningful
If we knew we were going to die tomorrow, what would our life today be like? Would we be involved in self-pity, or self-compassion? In this lesson, Gelek Rimpoche explores how we can generate compassion for ourselves through making our spiritual path solid and meaningful. Our life today can be our preparation for our life tomorrow, and beyond. But he cautions us not to let the teachings just be "paint on the wall." Rather, we need to be like sponges and soak them up! Paint on the wall, doesn't affect the wall. In order to have the teachings affect us and be meaningful, we must analyze and meditate, and allow them to soak in.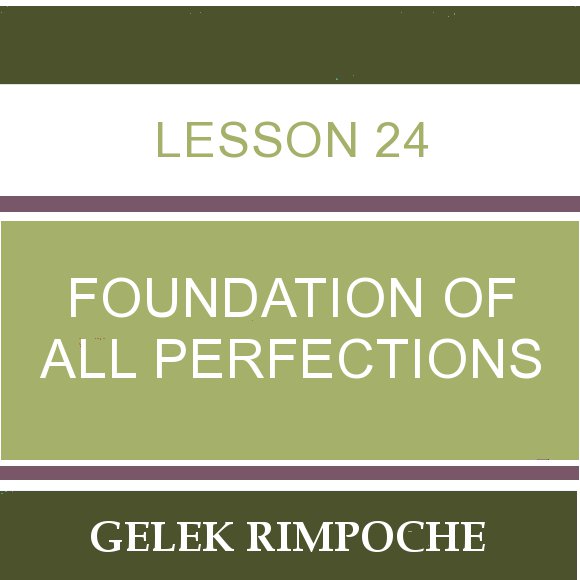 Lesson 24 – Foundation of All Perfections
Lesson Number 24 of 30
Lesson 24: What Are the Qualities of Enlightened Mind?
In this lesson, Gelek Rimpoche reveals the distinct qualities of the bodhisattva's mind—a committed mind that sees all sentient beings as equal and is dedicated to relieving their suffering. It is the person doing the practice that determines the level of practice. For example, a bodhisattva giving a little food to a dog has a greater effect than an ordinary person giving a lot of food because the bodhisattva has a precious mind—a very specially committed mind that sees no difference between all sentient beings. It is the mind that makes the difference, not wealth, knowledge, or quantity. The Buddhas started out just like us, with the same negative emotions, but they worked, changed themselves, and became Buddhas.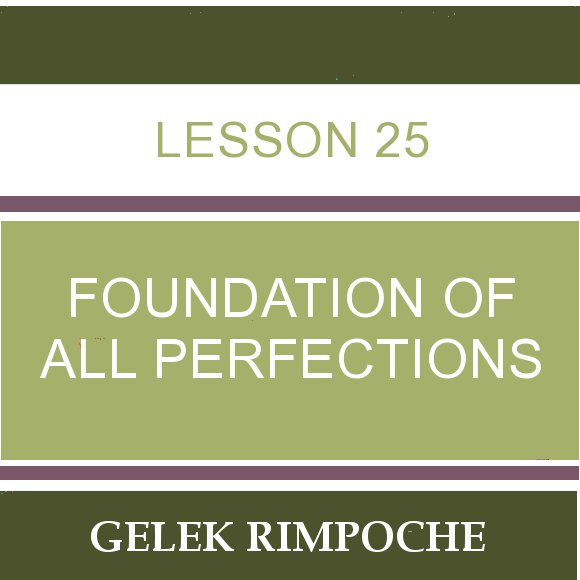 Lesson 25 – Foundation of All Perfections
Lesson Number 25 of 30
Lesson 25: The Three Higher Trainings
In order to truly help others we must engage daily in the Three Higher Trainings of morality, concentration and wisdom. Rimpoche explores in detail the training of the mind in morality, or ethics, stressing that it's not just about restraint from lying or stealing, but also about how we treat the Earth and all beings on Earth. We can help others in the same way we help ourselves, by becoming a Buddha. And we become a Buddha by practicing morality, concentration and wisdom. If you find yourself being unethical, keep trying to correct yourself, and don't give up.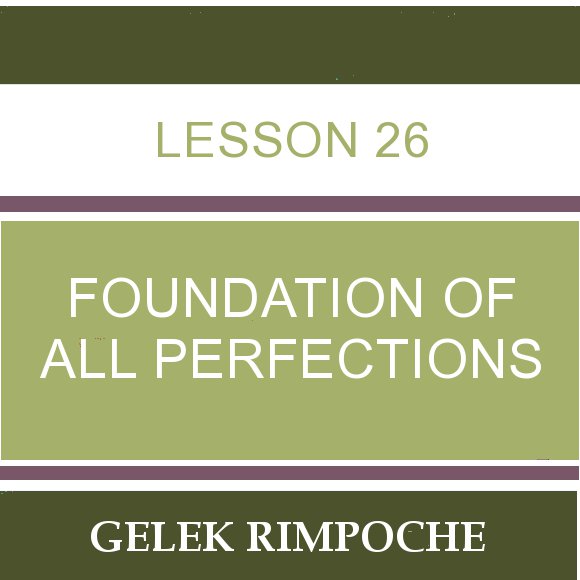 Lesson 26 – Foundation of All Perfections
Lesson Number 26 of 30
Lesson 26: The Buddhist View of Morality
In this lesson, Gelek Rimpoche explores the three moralities, through which we can reduce or eliminate negative karma, and build positive karma that will change our life and lives to come. First is protecting your vow, in other words, not engaging in negative karma. The vow protects the individual from negative karma. Second is creating positive karma. Third is to be of service to sentient beings. As science progresses, ethical issues will become much more important for us. In regard to ethics—the vinaya rules—Buddha himself said that these rules might have to change with the times. Rimpoche gives Bio-technological developments as examples.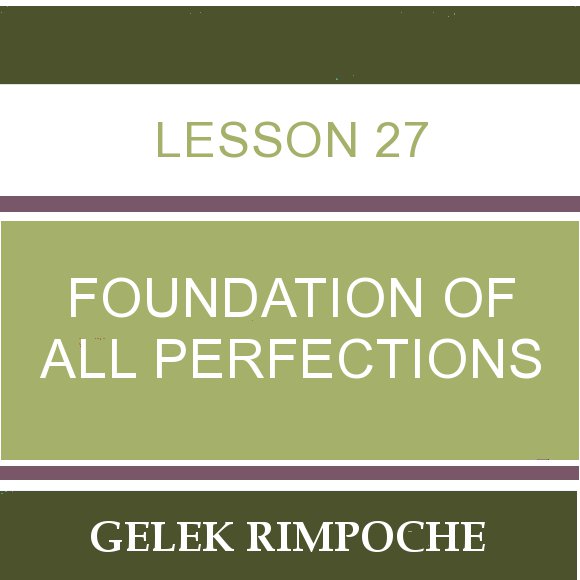 Lesson 27 – Foundation of All Perfections
Lesson Number 27 of 30
Lesson 27: Concentration Allows Us To Cut Through Ego
In this lesson, Gelek Rimpoche shows how our powers of concentration, or shamatha, along with our powers of analysis, or vispassana, can cut through self-grasping, and allow us to see the true nature of reality. It is the ability to concentrate single-pointedly that allows the mind to see the egolessness of the self. Wisdom is the only thing that can cut the root of samsara. Our problems stem from "me, me, me," so, we must cut out the ego. We are ruled by our egos. When you have the power to concentrate the vispassana, you will be able to see the egolessness of "me." Without the three moralities, plus shamatha plus vispassana, we will not reach enlightenment.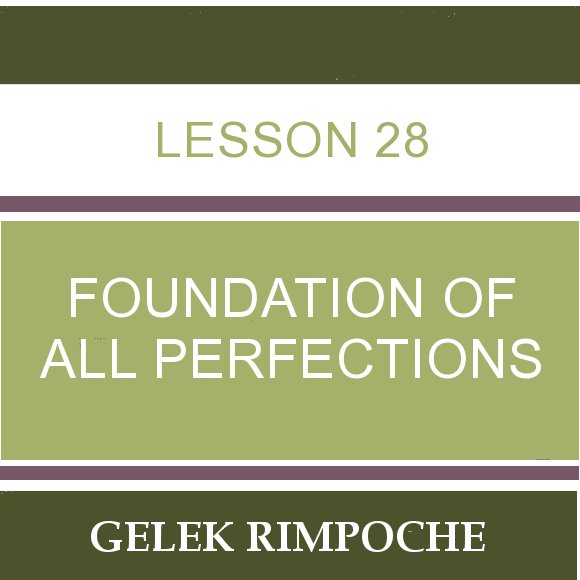 Lesson 28 – Foundation of All Perfections
Lesson Number 28 of 30
Lesson 28: Relative and Ultimate Truth
What is the real message of the Buddha's teachings? In this lesson, Gelek Rimpoche gives us a taste of the Two Truths, the basis of all Buddha's teachings. These truths, the relative and the ultimate, must be seen simultaneously in order to have a true grasp of reality. All Buddha's teachings come down to the two truths: The relative truth, just like an illusion, and the absolute truth, just like space. Once you have shamatha and vispassana together you should take advantage of the quickness of the vajrayana if it is available to you. It is the path of fortunate beings.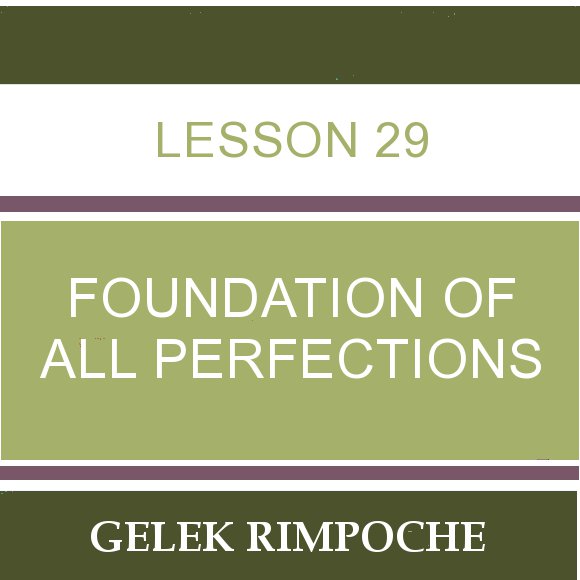 Lesson 29 – Foundation of All Perfections
Lesson Number 29 of 30
Lesson 29: How is Vajrayana different from the Sutra Path?
The same attainments garnered through Sutrayana practice can be gained through Vajrayana, but much more quickly than the Sutrayana path. Rimpoche explains how concentration and wisdom are developed within these two vehicles. The doorway to Vajrayana is the initiation. Tsong Khapa's special way of Ngo Drol is explained as the preliminary meditations up to Vajrayana initiation. You don't need to become a Buddha to get rid of your suffering, so not all traditions mention becoming a Buddha. That is special to the Mahayana path. Vajrayana is a quick path to Buddhahood, so it's very practical, but also quite dangerous, like traveling in a very fast vehicle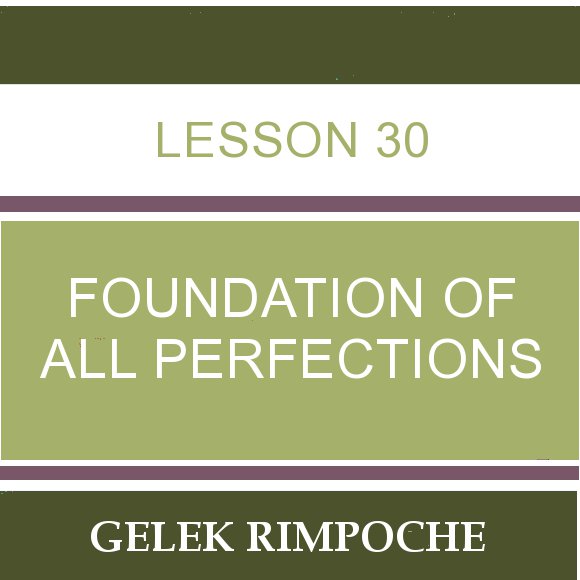 Lesson 30 – Foundation of All Perfections
Lesson Number 30 of 30
Lesson 30: The Importance of Vajrayana Vows and Commitments
In this lesson, Gelek Rimpoche explains the primary importance of ethics, the keeping of our vajrayana vows and commitments. Because we do not know if we will have the opportunity for spiritual practice in our future lives, it is essential that we try to attain our goals as quickly as possible, and for that Vajrayana is the perfect vehicle. The two stages of the Vajrayana path are the development stage and the completion stage. The development stage is building up your mandala, deity, and learning how to die, go through bardo, and take rebirth. Zo rim, or completion stage, is the actualization of what you built in the development stage. If we don't actualize what we have visualized in our development stage, then our spiritual practice just becomes "love and light" and doesn't do much good.