Senior Instructors Hartmut Sagolla and Supa Corner offer guided meditation, instruction and discussion sessions on various topics, onsite Jewel Heart Ann Arbor and online.
With so many meditation topics available, knowing how to begin a personal daily practice can be confusing.
Sessions 1 – 3 offer clear guidance for a complete Tibetan Buddhist daily practice, combining prayer, visualization and mantras, as well as concentrated and analytical meditations.
Sessions 4 – 9 present the Foundation of All Perfections, the stages of the spiritual path from the role of the guru to a practical introduction to Vajrayana, offering an introduction to Tibetan Buddhist principles and practices through instruction, guided meditation, and discussion.
DATES/TIMES:
Sessions 1 – 3: Saturdays monthly, January 7, February 2, March 4, 2023, 10:00 – 11:30am ET
Sessions 4 – 9: Saturdays monthly, April 1, May 6, June 3, July 8, August 5, September 16, October 14, November 4, December 2, 2023, 9:00am – 12:00pm ET
Please Note: Sessions 1 – 3 and Sessions 4 – 9 are at different times.
---
Sessions 1-3
COST: Members $15/ Non-Members $20
Pay What You Can – No one is turned away
Sessions 4-12
COST: Members $30/ Non-Members $45
Pay What You Can – No one is turned away
Registration lets us know you will be attending and provides the zoom link via this web page or the registration confirmation email. Newcomers to Jewel Heart Programs will receive instructions about their account in their registration email.
For questions about registration, contact registration@jewelheart.org.
Zoom links will appear below indicating purchased sessions. Please check below to see your registrations.
---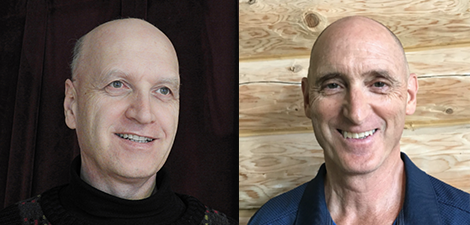 Hartmut Sagolla first met Gelek Rimpoche in 1984 and has been studying Tibetan Buddhism for over 30 years. He lived at the Tibetan Buddhist Society, Melbourne, Australia before moving to the U.S. and since 2002 has served as a Program Director at Jewel Heart. He is a Jewel Heart instructor and Director of the Bloomfield Hills chapter.
Supa (Greg) Corner has been practicing Buddhism since 1979. He was ordained in the Chogye order of Korean Zen Buddhism with seven years of formal practice. In 1987 he began studying Tibetan Buddhism with the late master Kyabje Gelek Rimpoche and is currently an instructor and community chaplain at Jewel Heart, as well as the Director of the West Michigan chapter.
SUPPORTIVE MATERIALS for download: Links to Media Library pdfs 
SUPPORTIVE MATERIALS for purchase:
MEDITATION TECHNOLOGY: FOUNDATION OF ALL PERFECTIONS
SUPPORTIVE MATERIALS for download:
Foundation of All Perfections pdf
SUPPORTIVE MATERIALS for purchase:
For registration questions, contact registration@jewelheart.org.
Your contribution helps support Jewel Heart preserve and present authentic Tibetan Buddhist teachings.
---