Senior Instructors Hartmut Sagolla and Supa Corner offer monthly online guided meditation, instruction and discussion sessions on various topics. Watch Live. Stream Later.
With so many meditation topics available, knowing how to begin a personal daily practice can be confusing.
Sessions 4 – 12 present the Foundation of All Perfections, the stages of the spiritual path from the role of the guru to a practical introduction to Vajrayana, offering an introduction to Tibetan Buddhist principles and practices through instruction, guided meditation, and discussion.
Saturdays – April 1, May 6, June 3, July 8, August 5, September 16, October 14, November 4, December 2, 2023 at 9:00am – 12:00pm ET
---
Watch Live. Stream Later.
Members $30/ Non-Members $45
Pay What You Can – No one is turned away
The zoom link and instructions about accessing your account will be provided after registration in a confirmation email.
For questions about registration, contact registration@jewelheart.org.
Zoom links will appear below indicating purchased sessions. Please check below to see your registrations.
---
Session 1: Refuge and Bodhimind – Saturday, January 7, 2023
At the beginning of any Tibetan Buddhist Meditation it is important to create a conducive environment for meditation and connect with the Buddha as our source of compassion, inspiration and blessings while also generating the best possible altruistic motivation for one's practice: the wish to become enlightened for the sake of others. The onsite/online workshop session will include guided visualization and analytical meditation on the meaning of taking refuge and the precious bodhimind.
---
Session 2: The Seven Limbed Prayer – Saturday, February 4, 2023
In order to have profound meditations with lasting impact, practitioners strive to create positive energy and purify any obstacles in the presence of Enlightened Beings. The seven-limbed prayer is a condensed presentation of engaging in powerful positive thoughts and visualizations. Onsite/Online.
---
Session 3: Mantras – Saturday, March 4, 2023
Buddha, as the source of refuge, can appear in many forms that represent profound spiritual qualities, such as Avalokitesvara and Tara, both embodiments of infinite compassion, as well as Manjushri, embodiment of enlightened wisdom. Visualizing these enlightened beings and reciting their mantras will create a deep connection with them and activate our own potential to realize these qualities within us. Onsite/Online.
---
Session 4: Guru Devotion – Saturday, April 1, 2023
Following a kind master, foundation of all perfections, is the very root and basis of the path. Empower me to see this clearly and to make every effort to follow well.
---
Session 5: Precious Human Life – Saturday, May 6, 2023
Precious human life gained but once has great potential but is easily lost. Empower me to remember this constantly and to think day and night of taking its essence.
---
Session 6: Impermanence – Saturday, June 3, 2023
I must remember that death is quick to strike, for spirit quivers in flesh like a bubble in water; and after death one's good and evil deeds trail after one like the shadow trails the body.
---
Session 7: Karma – Saturday, July 8, 2023
Understanding that this most certainly is true, may I discard every level of wrong, and generate an infinite mass of goodness; empower me to be thus continually aware.
---
Session 8: Renunciation and Attaining Liberation – Saturday, August 5, 2023
Sensual gluttony is a gate to suffering and is not worthy of a lucid mind. Empower me to realize the shortcomings of samsara and to give birth to the great wish for blissful freedom.
And empower me that with mindfulness and alertness born from thoughts ultimately pure, I may live in accord with the holy Dharma, the ways leading to personal liberation.
---
Session 9: Precious Bodhimind – Saturday, September 16, 2023
Just as I myself have fallen into samsara's waters, so have all other sentient beings. Empower me to see this and really to practice Bodhimind, that carries the weight of freeing them.
---
Session 10: Transcendental Actions – Saturday, October 14, 2023
Yet without habituation in the three moralities, thought-training accomplishes no enlightenment.
Empower me to know this deeply, and intensely to train in the various ways of the great Bodhisattvas.
---
Session 11: Union of Concentration and Wisdom – Saturday, November 4, 2023
And empower me to pacify distracted mental wanderings and to decipher the ultimate meaning of life, that I may give birth within my mindstream to the path combining concentration and wisdom.
---
Session 12: Entering the Tantric Path – Saturday, December 2, 2023
One who trains in these common Mahayana practices becomes a vessel worthy of the supreme vehicle, Vajrayana. Empower me that I may quickly and easilyarrive at that portal of fortunate beings.
The foundation of what then produces the two powers is the guarding of the pledges and commitments of tantric initiation. Bless me so that I may have uncontrived knowledge of this And guard my discipline as I do my very life.
And bless me so that I may gain realization of the main practices of the two stages of Vajrayana, essence of the tantric path; and by sitting relentlessly in four daily sessions of yoga, actualize just what the sages have taught.
Empower me that the masters who have unfolded the sublime path within me and the spiritual
friends who have inspired me may live long: And that the myriad inner and outer interferences
be completely and utterly calmed forever.
In all future lives may I never be parted
from the perfect lamas or the pure ways of Dharma.
May I gain every experience of the paths and stages
and quickly attain the stage of Vajradhara.
---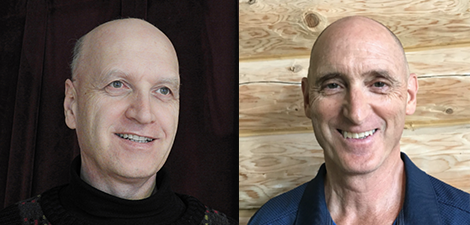 Hartmut Sagolla first met Gelek Rimpoche in 1984 and has been studying Tibetan Buddhism for over 30 years. He lived at the Tibetan Buddhist Society, Melbourne, Australia before moving to the U.S. and since 2002 has served as a Program Director at Jewel Heart. He is a Jewel Heart instructor and Director of the Bloomfield Hills chapter.
Supa (Greg) Corner has been practicing Buddhism since 1979. He was ordained in the Chogye order of Korean Zen Buddhism with seven years of formal practice. In 1987 he began studying Tibetan Buddhism with the late master Kyabje Gelek Rimpoche and is currently an instructor and community chaplain at Jewel Heart, as well as the Director of the West Michigan chapter.
SUPPORTIVE MATERIALS for download:
SUPPORTIVE MATERIALS for purchase:
MEDITATION TECHNOLOGY: FOUNDATION OF ALL PERFECTIONS
SUPPORTIVE MATERIALS for download:
Foundation of All Perfections pdf
SUPPORTIVE MATERIALS for purchase:
For registration questions, contact registration@jewelheart.org.
Your contribution helps support Jewel Heart preserve and present authentic Tibetan Buddhist teachings.
---