Jewel Heart is honored to announce a Special Weekend Teaching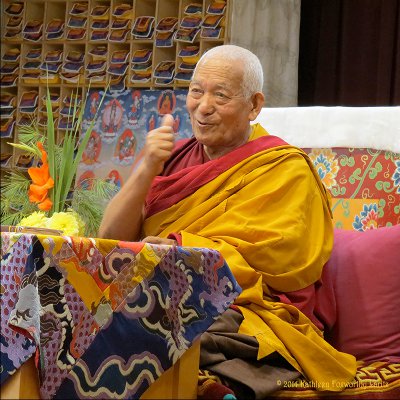 UNDERSTAND LIFE:
Journey to Enlightenment
with GESHE YESHE THABKHE
Friday – Sunday, September 9–11, 2016
Jewel Heart International
1129 Oak Valley Drive
Ann Arbor, MI 48108
Also available via Webinar.
We are honored to announce
a special weekend teaching
with guest Geshe Yeshe Thabkhe. 
In this teaching on Aryadeva's poetic 400 Stanzas, Geshe Yeshe Thabkhe will illuminate the spiritual journey to enlightenment, helping us to learn how to rely on positive actions, reduce disturbing emotions, and understand the true nature of reality.
We invite you to enjoy earlier audio sessions offered by Geshe Yeshe Thabkhe on this topic. Click the links below:
Aryadevas 400 Stanzas on the Middle Way: Chapter 1
Aryadevas 400 Stanzas on the Middle Way: Chapter 2
Aryadevas 400 Stanzas on the Middle Way: Chapter 3
Geshe Rinpoche's gifts were recognized early in life. A genuine contemplative master and member of the last generation extensively trained in old Tibet, he is a Professor of Mool Shastra (Nalanda Tradition of Buddhist Philosophy) at the Central Institute of Higher Tibetan Studies, the only Tibetan university in India.
He is regarded as one of the most eminent scholars of both the Madhyamaka tradition and Indian Buddhist studies. As one of the greatest learned scholars of Drepung Loseling Monastery, he facilitated completion of numerous research works, including a complete translation of Lama Tsongkhapa's Lam Rim Chen Mo, or Great Treatise on the Stages of the Path to Enlightenment.
SCHEDULE
Friday, September 9, 7:30 – 9 pm
Saturday, September 10, 10am – 12; 2 – 5pm
Sunday, September 11, 2 – 4pm

$50 - 75 sliding scale
Click here to Register
Jewel Heart Programs are open to all , regardless of ability to pay. If you are unable to afford a fee, please contact registration@jewelheart.org to discuss the possibility of a partial or full scholarship.