Message from Rimpoche
This morning while doing dialysis, all my phones started to ring. My home phone, my two cell phones all rang over and over again at the same time. I was connected to the dialysis bag so I couldn't move and I couldn't answer them. But I heard a message spoken like a voicemail being left by loudspeaker: "Locho Rinpoche passed away at 3pm Indian Standard Time."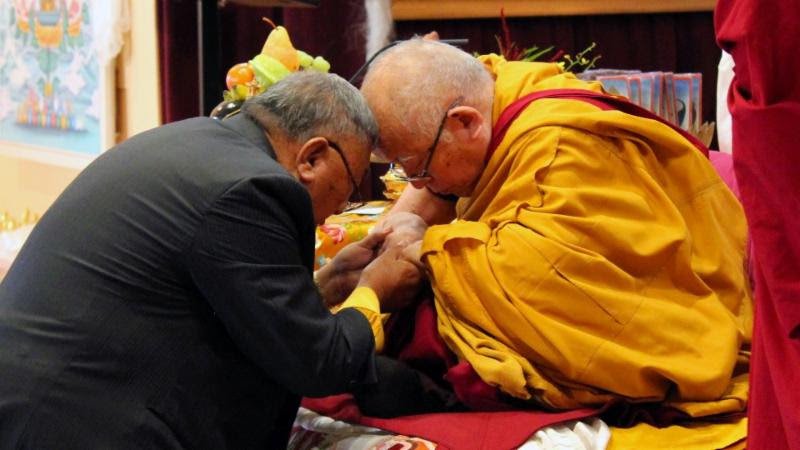 I found out after I finished dialysis that an old friend of mine from India had been trying to reach me to tell me what I had just heard.
In early October, Locho Rinpoche had an excellent meeting with His Holiness in Dharamsala. There are pictures showing His Holiness to be extremely happy, touching heads with Locho Rinpoche. Two to three days after the meeting, Locho Rinpoche's temperature was a little high and his sugar levels rose to about 400. He was treated by doctors who gave him medicine that seemed to settle things down. Today Locho Rinpoche took a walk and afterwards sat down on his cushion and drank some tea. He passed away suddenly at 3pm sitting on his cushion.
In a way it is the saddest of news, indeed, but it is also the biggest teaching of impermanence. I and Jewel Heart are sponsoring four days services of self initiation of Yamantaka, Heruka, Guhayasamaja and Vajrayogini as offering performed by those performing the funeral rites, particularly the Gyuto monks. We are also planning to sponsor Drepung Loseling and Nyare Kamtsen in a service headed by Togden Rinpoche. When the time of the funeral is settled, Jewel Heart may organize a delegation to attend, though I may personally may not be able to go. If anyone is interested in attending please contact kimba@jewelheart.org as soon as possible.
Tonight, October 23, at 7pm Eastern Daylight Time we will be doing Lama Chopa via webinar. All are welcome and it will be connected in various centers as well by individuals. . Lama Chopa will be followed by Vajrayogini self-initiation. Vajrayana practitioners are welcome to stay.
Please register for VajraYogini Self-Initiation and Lama Chopa Tsog on Oct 23, 2014 7:00 PM EDT at:
https://attendee.gotowebinar.com/register/5301161534909505281
After registering, you will receive a confirmation email containing information about joining the webinar.
---
Posted on 10/25/2014
Below is an update on the offerings being made in India for Kyabje Denma Locho Dorjechang, and sponsored by Kyabje Gelek Rimpoche and Jewel Heart.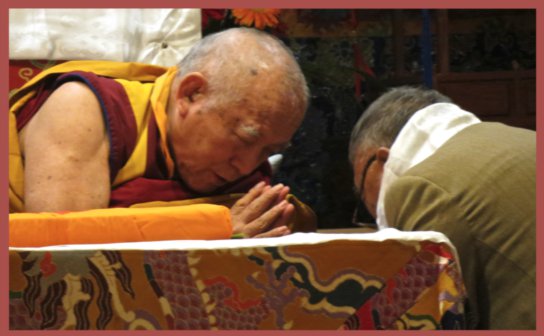 The Gyuto monks attending services in Dharamasala, India have completed the sponsored self-initiations of Yamantaka and Heruka and will continue with self-initiations of Vajrayogini and Guhyasamaja.
Over 5,000 monks at various locations in South India are reciting:
Abhisamayalankara, the transcendent wisdom root text and Madhyamakavatara, the wisdom root text
Essence of Eloquence by Jamgon Lama Tsongkhapa and Manjushri Nama Sangiti, the Chanting of the Names of Manjushri.
Lama Chopa and Tsoh

Each monk receives a feast offering and a stipend.
Thank you,
Ujjen Tsewang
Posted on Thursday, October 23rd, 2014