Summary of my Visit to Malaysia
By Gelek Rimpoche
As they say, better late than never. Please excuse my tardiness, but I still wanted to share with you about the events in Malaysia and update you on how our Malaysian friends are doing.
As many of you know, I try to get to Malaysia and Singapore at least once a year. We have many Jewel Heart friends who have been attending teachings, supporting my work, and coming to our retreats in Michigan and Holland for many, many years. They are even contributing towards the mortgage payments of Jewel Heart headquarters in Ann Arbor, Michigan, not to mention that they are totally dedicated and devoted practitioners. It is always nice to visit them.
I was there to teach and gave a full-fledged initiation and teachings of Yamantaka and some public talks. A number of people attended. We were also hoping to have a couple of Nyare Khamtsen monks from India visit and give pujas, but there was a visa snafu and so they were unable to travel to Malaysia. In their stead, I included the Avalokiteshvara Liberating from the Lower Realms empowerment and the Vajrapani-Heyagriva-Garuda combined empowerment as well. All those teachings, initiations, and empowerments occurred in Kuala Lumpur, the capital city, where I normally give teachings in Malaysia.
This year, the Malaysians organized a Dharma Tour after the Kuala Lumpur teachings. I visited the cities of Taiping, Gerik, and Penang to give some talks and meditative transmission of White Tara. In all these areas there were people coming to see me with photos taken in the 1980s and it was very interesting. It was nice and I was happy and sad combined together (the usual samsara symptoms) because there were so many years gone in-between. Everyone looks a little older than we used to.
Gelong-la is no longer with us, but he was instrumental in bringing me to Malaysia as a guest of the Young Buddhist Association. He was an Austrian punk who caught a glimpse of His Holiness passing at the train station in Europe somewhere back in the late 1960's or early '70s. He was wondering who that guy was and so he pursued his curiosity, which landed him in India. He later became a very good monk and joined Loseling in Drepung. He worked in Drepung Loseling, organizing them to make it a modernized, efficient institution. He introduced Western education such as English, mathematics, and hygiene and also established a "library" society in Loseling that started collecting books and making them available for all the monks, including printing and publications. They issued a magazine, which is still continuing, called dreloma, informing interested friends of what is happening in the monastery. Later, he left Loseling because he was very stubborn and insisted on a style of functioning that some in the monastery didn't want to accept. After an argument, he went to Kyabje Ling Rinpoche who sent him to me with the instructions to teach him, take care of him, and make sure he didn't return to the monastery. Even afterwards, he continuously worked for Loseling, Nyare Khamtsen, and Ling Khamtsen (although from Malaysia).
Finally, Gelong-la passed away during our Winter Retreat 1995. He told our Malaysian friends who were there, "We came in easily but the journey back will take a long time." He was not sick – he just had a little cold. He attended all the teaching sessions, meals, and everything like usual. However, all his possessions, including holy objects and leftover money, everything, he gave to me at lunchtime on the day he passed away. I told him, "Keep it for me" and didn't take it. Then finally he had a collection of Kyabje Ling Rinpoche's hair that he divided into little packages and brought to my room, saying, "it became 32." My thought at that time was, "it is the 32 deities of Guhyasamaja" but instead I said, "What? Became 32?" He said, "I have a collection of Kyabje Ling Rinpoche's hair and I divided them evenly into packages and it became 32." At the end of the retreat we held a long life puja and Chodak Rinpoche was the vajra master and had a throne at the center of the front row. At the last session, which was the Mahamudra teaching, Chodak Rinpoche did not attend that night so Gelong-la wanted to sit on that throne. I said, "OK," and allowed him to sit there. Towards the end of the Mahamudra teaching he wanted to leave. I told him to sit there until we were finished so he did. Then he went to his room and lied down. The next thing I knew, his roommate, John Madison, did his prayers (including hundreds of Migtsema mantras) and went to bed. The next morning I saw John in the men's room and he said, "I think Gelong-la tried to impress us because he sat the whole night in the same position meditating. Either that or he's dead!" I said, "Well, go and check with our medical professionals who are attending the retreat." John replied that he didn't want to disturb him so I went to breakfast along with Philip Glass and the late Allen Ginsberg. I saw John running without shoes from the main building to the dining hall so I understood then that Gelong-la passed away. I told Allen and Philip, "It looks like Gelong-la is gone." Allen was observing me carefully. I told John to sit down and have breakfast but the muffin he tried to eat never entered his mouth. Immediately the word started spreading around the different tables and people got a little nervous so we held a Lama Chopa session. We also completed his final rites at Jewel Heart Michigan. His father wanted to have his computer so we presented it to him through the Austrian embassy.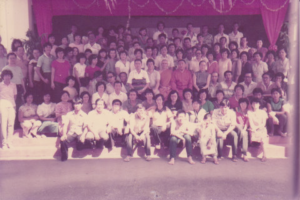 Group Photo in Taiping, Malaysia 1984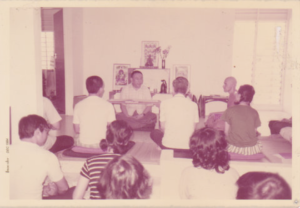 Discussion in my apartment in Bayan Baru Center in Penang, 1984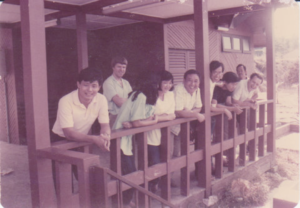 I could identify the following people on the balcony in Gerik: Brother Ong, Alfred (standing), Lodro (on my left), Khoo brother, and Hartmut (with hair back then)
Penang, 1985 (including, from the front row beginning second from left:
Dato Tin Gin Soon, Khoo Poh Kong, and the late Gelong-la).
In Penang, I was invited to give a talk at the Sandalwood Forest Center (also known as the Than Hsiang Temple, which I named back in the 80's when they were thinking about building it). The Ven. Wei Wu is the abbot of the Center. I knew him back in the 80's as Brother Neoh Kah Tong who taught in Bayan Baru Center. He was a very dedicated Buddhist lay teacher who is now not only a monk but the abbot. The Sandalwood Center has five storeys and all kinds of activities, including a Buddhist university that is recognized by the Thai government/king, therefore allowing it to issue degrees. They also have a retirement center/hospice care. It is absolutely, spotlessly clean with about 40 people on the 4th floor of the Center. Schools, lectures, lunches, and dinners are all done in the usual Chinese monastery style and combined together very nicely.
Dato Tan Gin Soon hosted us in Penang. He also hosted my first visits back in the 80's. He is a very wonderful, dedicated, and compassionate leader.
Suan Phaik Khoo, who chairs the organizing committee for the Malaysian group, also organized the sales of my books, "The Four Noble Truths," "Wit and Wisdom of Gelek Rimpoche", and the nice DVDs she produced. The sales contributed about US $8,390 to Jewel Heart International towards the mortgage of headquarters. I am grateful for all the hard work that the entire Malaysian group, especially the Executive Committee chaired by Chee Eng Lau, contributes. Chee Eng and her family also hosted me along with the friends who accompanied me from the U.S. They have hosted and supported me all these years.
I also spent one teaching day in Singapore. It was a Vajrayogini initiation. It was not the first time for any of the Singaporeans. Mr. Derek Goh and family not only sponsored me and hosted the U.S. group and the Lau family, but they also provided a sumptuous meal for everyone who attended the teaching.
I did manage to get three days of rest in Japan before heading back to the United States before the beautiful Summer Retreat, which will be the next News & Views.
Posted on Friday, September 30th, 2011