His Holiness the Dalai Lama and Venerable Thubten Chodron have been developing a comprehensive multi-volume resource guide for all levels of interest in Buddhism's foundational teachings. Ven. Chodron will touch on topics of the first six, such as the Foundations of Buddhist Practice, Samsara, Nirvana, Buddha Nature and Great Compassion and also talk about working with the Dalai Lama on this project.
Click here for more about Venerable Thubten Chodron
Click here for more about the current volumes and those to come.
Click here for the current volumes.
DATES/TIMES:
Wednesday evenings, October 6 – November 10, 2021, 7:00 – 8:30pm ET
SCHEDULE
October 6: Volume 1 – Approaching the Buddhist Path
October 13: Volume 2 – The Foundation of Buddhist Practice
October 20: Volume 3 – Samsara, Nirvana, and Buddha Nature
October 27: Volume 4 – Following in the Buddha's Footsteps
November 3: Volume 5 – In Praise of Great Compassion
November 10: Volume 6 – Courageous Compassion
Registration includes on-demand access to this program's recordings as well as support materials via a personal Jewel Heart login account. Newcomers to Jewel Heart online programs receive instructions about their account in their registration confirmation email.
REGISTRATION
Fee: $100
Library of Wisdom and Compassion Preview
Venerable Thubten Chodron
is an author, teacher, and the founder and abbess of Sravasti Abbey, the only Tibetan Buddhist training monastery for Western nuns and monks in the US. She graduated from UCLA, and did graduate work in education at USC. Ordained as a Tibetan Buddhist nun in 1977, she has studied extensively with His Holiness the Dalai Lama, Tsenzhap Serkong Rinpoche, and Kyabje Zopa Rinpoche. She received full ordination as a bhikshuni in 1986.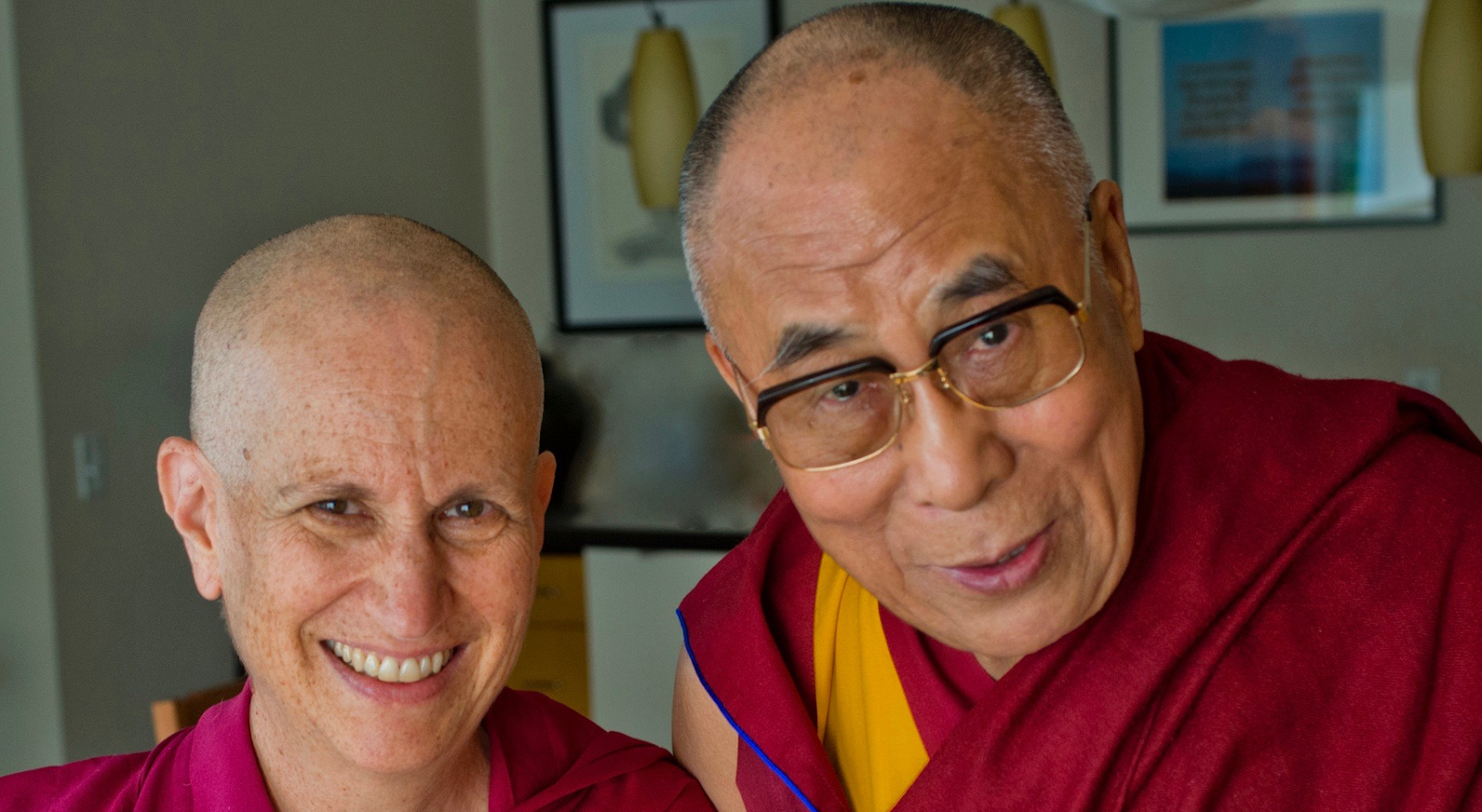 Ven. Chodron teaches worldwide and is known for her practical (and humorous!) explanations of how to apply Buddhist teachings in daily life. She is also involved in prison outreach and interfaith dialogue. She has published many books on Buddhist philosophy and meditation, and is currently co-authoring with His Holiness the Dalai Lama a multi-volume series of teachings on the Buddhist path, The Library of Wisdom and Compassion. The sixth volume, Courageous Compassion, was published in May 2021. Visit thubtenchodron.org for a media library of her teachings, and sravasti.org to learn more about Sravasti Abbey.
SUGGESTED READING/LISTENING for purchase:
Odyssey to Freedom – Transcript by Gelek Rimpoche
Odyssey to Freedom – Audio Downloads of 2002 Summer Retreat by Gelek Rimpoche
Good Life, Good Death – 2001 Retreat teachings by Gelek Rimpoche
SUGGESTED COURSE for purchase: 
Lam Rim 2018 – 2020 – Stages of the Path Course by Demo Rinpoche
Gateway to Enlightenment – Jewel Heart Course with Venerable Chodron
Good Life, Good Death – Jewel Heart Course with Jewel Heart Instructor Amy Hertz, based on Gelek Rimpoche's bestseller
---