Finding a way out of suffering for oneself is not the end of the spiritual journey for those with a compassionate heart. Continuing the Applied Meditation Technology Program, these sessions offer methods to expand the spiritual vision to include all living beings and lead the practitioner in practices aimed at full enlightenment. The program includes instruction, guided meditation, individual meditation and discussion sessions.
These sessions are presented by Hartmut Sagolla and Supa Corner.
Click here for program presenter's bios.
DAY/TIMES: Saturdays, 9:00 am – 1:00pm ET. Scroll below to register for individual monthly schedule and topics.
Individual Session Fees:
$25 Jewel Heart Members / $30 Non-Members
No one is turned away due to financial considerations.
Your contribution helps support Jewel Heart preserve and present authentic Tibetan Buddhist teachings.
Registration includes on-demand access to this program's recordings as well as support materials via a personal Jewel Heart login account. Newcomers to Jewel Heart online programs receive instructions about their account in their registration confirmation email. Please allow a day or two following the live programs for recordings to be posted.
For registration questions, contact registration@jewelheart.org.
The sessions below are available to be taken individually or as part of a successive course of study and practice.
To follow in sequence, you are welcome to begin with the offerings available through the initial 10 sessions of Meditation Technology: A Series on How to Meditate in the Tibetan Buddhist Tradition.  To apply the meditation tools introduced and developed in the first series,  we then invite you to experience the next 7 sessions of Applied Meditation Technology: Blueprints of Enlightenment. From that point, the sessions below provide us with the next steps on our meditation journey.
For questions about these programs and options, write program@jewelheart.org.
---
The Mahayana and the Benefits of Great Compassion
Realizing the magnitude of the suffering in cyclic existence, practitioners of Mahayana develop the great heart that is willing to work for the benefit of all beings, and for that reason determine to attain the enlightenment of a Buddha.
DATE/TIME: Saturday, February 5, 2022
---
Equanimity: Living Inclusively
Wishing to help all beings is only possible by first acknowledging our fundamental equality with all, excluding no one and overcoming obsession and hatred within our own hearts.
DATE/TIME: Saturday, March 5, 2022 9:00am – 1:00pm ET
---
Interconnectedness and the Kindness of Others
All living beings on this planet are deeply interconnected and our very survival – as well as our happiness and spiritual development – depends on the kindness of others.
DATE/TIME: Saturday, April 2, 2022 9:00am – 1:00pm ET
---
Exchanging Cherishing Self for Others
Working for our benefit alone, we are constantly defeated and hurt others in the process, but once we put others first, we all win.
DATE/TIME: Saturday, May 7, 2022 9:00am – 1:00pm ET
---
Tong Len: Courageous Compassion
Turning ego's addiction to self-gratification upside down, the practice of giving our happiness to others and taking on their suffering transforms our very being.
DATE/TIME: Saturday, June 25, 2022 9:00am – 1:00pm ET
---
The Transcendental Actions
Having determined to help all beings, it is not enough to simply wish for them to be happy. The venturing awakening mind pro-actively engages life through acts of generosity, ethics, patience and enthusiasm.
DATE/TIME: Saturday, July 9, 2022 9:00am – 1:00pm ET
---
Uniting Concentration and Wisdom
The last two of the Six Perfections are needed in order to break the chains of self-grasping once and for all. Meditating on subtle impermanence and discovering the object of negation are essential steps to finding the wisdom that realizes the true nature of all phenomena.
DATE/TIME: Saturday, September 10, 2022 9:00am – 1:00pm ET
---
Decisive Wisdom: The Four Keys
Ignorance strongly insists on the intrinsic existence of oneself and all phenomena. With analytical precision, wisdom reveals this to be a false perception and establishes the dependent arising of all things as the ultimate reality.
DATE/TIME: Saturday, October 1, 2022 9:00am – 1:00pm ET
---
Guru Devotion and the Vajrayana Path
During the common Mahayana practices, reliance on a qualified spiritual mentor is already indispensable. When entering into Vajrayana through initiation, it becomes essential. Practices based on the inseparability of Guru and Deity accelerate spiritual development by bringing wisdom and compassion to their highest fulfillment.
DATE/TIME: Saturday, November 5, 2022 9:00am – 1:00pm ET
---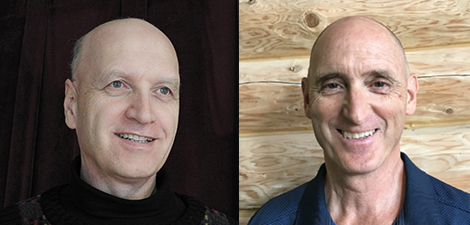 Hartmut Sagolla first met Gelek Rimpoche in 1984 and has been studying Tibetan Buddhism for over 30 years. He lived at the Tibetan Buddhist Society, Melbourne, Australia before moving to the U.S. and since 2002 has served as a Program Director at Jewel Heart. He is a Jewel Heart instructor and Director of the Bloomfield Hills chapter.
Supa (Greg) Corner has been practicing Buddhism since 1979. He was ordained in the Chogye order of Korean Zen Buddhism with seven years of formal practice. In 1987 he began studying Tibetan Buddhism with the late master Kyabje Gelek Rimpoche and is currently an instructor and community chaplain at Jewel Heart, as well as the Director of the West Michigan chapter.
SUGGESTED READING for purchase:
Odyssey to Freedom – Transcript by Gelek Rimpoche
Lam Rim Volume 1 – Transcript by Gelek Rimpoche
True Value of Life – On Demand Audio teaching by Gelek Rimpoche
Good Life, Good Death – On Demand Audio teaching by Gelek Rimpoche
Good Life, Good Death – Book by Gelek Rimpoche (paperback only)
Karma – Transcript by Gelek Rimpoche
SUGGESTED COURSE for purchase:
Mind and Meditation
Death and Dying Workshop
---