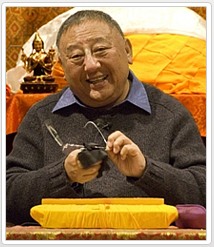 Gelek Rimpoche
Sundays 10:00-11:00 AM EST
Click here for free live webcasts.
Using Compassion to Transform Anxiety, Depression and Stress
This Sunday webcast, April 20, 2014, was sponsored by Stefan Gaspar.
Audio Only
Click Here
to watch "Essence of Tibetan Buddhism 47"
New to the Digital Dharma Archive
Summer Retreat with Gelek Rimpoche Session 1
Click Here to visit the Digital Dharma On-Demand Video area and watch all twenty sessions of Summer Retreat 2013. Sessions 1-20 now posted and freely available.
Gelek Rimpoche White Tara Guided Meditation
White Tara Practice Teachings
White Tara Practice Teachings by Gelek Rimpoche on April 20, 2013